Charles Still Presents Magnificent RC Wooden Boat Models at July Meeting
| WBA members Charles and son Mark Still came all the way in from Bryan, TX hauling Charles' precious collection of hand-built Chris-Craft radio-controlled boat models. Each exquisite example bears Charles' masterful touch. | | Charles explained his fascination with wooden boats, and gave a slide presentation of the meticulous building process. Charles spent about 250 hours building each model. Many thanks to Charles and Mark for this great show! |
| --- | --- | --- |
Project Work Continues in Lucas, Plano and Richardson!!
(Above) Chuck Barber's Borum outboard is ready for staining. He's got his beautiful white bottom paint all masked off to protect it from any drips.

(Below) Lew White stands behind his work! He and Bob Adair have now affixed the mahogany outer gunwales to their sailing dinghy. There's a set of inner gunwales to fit also, along with thwarts, seats and a centerboard trunk.

(Above) Walter Hill has moved his Hacker into the Lucas Shop. The Hacker will receive Walter's attention now that his Owens Cruiser is all ship-shape.

Dennis Cheatham got some restoration advice from senior senators Walter Hill and Richard Cheatham (below) as he continues bottom sealing and splash rail repair on his '58 Yellow Jacket.
Next WBA Monthly Meeting August 18, 2016. Don't Miss It!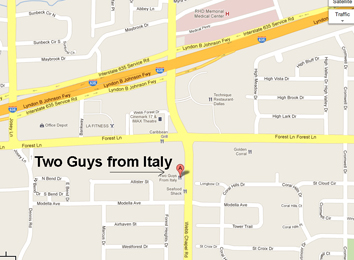 Our next meeting will be Thursday, August 18th, 2016 at 7 p.m. at Two Guys from Italy at 11637 Webb Chapel Road, just south of Forest Road. We'll be continuing our door prize tradition, giving out a classic boating book from collections donated by Pat Baldwin and Bill McNally to a lucky winner.
Our meetings are a great opportunity to socialize with fellow WBA members and to talk shop on questions on everything from paint and varnish to carburetor kits. We'll discuss upcoming events and hear a fascinating presentation by Dallas Canvas and Boat Tops. Affiliated with James Propeller, this firm fabricates custom boat covers, bimini tops and other marine canvas products.
As always, we'll have generous helpings of fellowship and Italian food.
Join us for a light meal and moderate libation at 5:30 p.m. at Two Guys from Italy prior to the meeting. We encourage you to join us for dinner, so we'll always have the required minimum number of diners to avoid a room charge.
Shop Talk and Musings
What a treat it was to see Charles Still's RC models at the July meeting! Charles' interest in wooden boats extends to the full-scale world, too. As you may know, Charles is the guy who bought the 1936 Chris-Craft Custom that Robin McGeorge and Troy Marshall restored a couple years back. They showed that boat at Keels & Wheels last year, and she's a real looker.
These dog days of summer tend to slow us down...the shop gets hot early. Even on the lakes, by mid-day, it's tough to be out on the water, so our rendez-vous activity is in hibernation for the moment. I've seen on Facebook that a few of our members, like the Wolfes, Sheets and Yearys, have taken off to lakes near and far anyway, and are making the most of their boating season.

And finally, please take a look in the shed or garage for leftover parts or other salable items you can donate to the club. Bring them to any WBA meeting, or contact David Kanally at david@historywithheart.com for pickup.