Tom Hage Presents Outboard Restoration Techniques
| Steve Griffitts gets credit for arranging another good meeting presentation at the October 15th WBA meeting. He introduced the group to outboard motor restorer Tom Hage, who has a beautiful collection of rare antique outboards as a hobby. Tom also does restorations for a few select customers. | | Tom shared before and after pictures of a number of motors in his collection and others he has done for customers. Above left is a Mercury 4-cyl prior to Tom working his magic, and above right is the after picture. Amazing work! Thanks, Tom and Steve, for a good job! |
| --- | --- | --- |
Progress Made in Lucas and North Richland Hills!
| (Above) Robin McGeorge and a team of Saturday morning helpers re-right Robin and Troy's 14' 1956 Yellow Jacket after the bottom has been painted red. Meanwhile, (below), Steve Griffitts has fought through the fiberglass coating on the bottom of his '48 Speedliner and removed the bottom plywood so he can get to work repairing frames and battens. | | (Above) Mark Wilson, Dennis Cheatham, Gabe Chacin and Robin McGeorge check that the righted Yellow Jacket is seated properly on the restored Husky trailer. Below, Mark Wilson has moved his '68 Grand Prix into stall #2 next to Robin and Troy. Next to Mark is his brother John's beautiful Chris Barrelback, Miss SuEllen. The WBA fleet is really coming along! |
| --- | --- | --- |
Next WBA Monthly Meeting November 19th. Don't Miss It!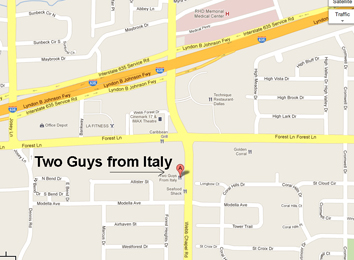 Our next meeting will be Thursday, November 19th, 2015 at 7 p.m. at Two Guys from Italy at 11637 Webb Chapel Road, just south of Forest Road. WBA Treasurer and benefactor John Parish will be giving away one of his many boating and woodworking related books as a door prize.
Our meetings are a great opportunity to socialize with fellow WBA members and to talk shop on questions on everything from paint and varnish to carburetor kits. The November meeting is our traditional Guest Night, so bring along your Boatress, your friend or your guest!
As always, we'll have generous helpings of fellowship and Italian food.
Join us for a light meal and moderate libation at 5:30 p.m. at Two Guys from Italy prior to the meeting. We encourage you to join us for dinner, so we'll always have the required minimum number of diners to avoid a room charge.
Shop Talk and Musings
The passing of our friend and fellow WBA member Bill Baldwin on October 14 was a stunning shock to us. The club lost a former president, a co-founder of the Lucas Shop, a source of expertise and humor, and major advocate of antique and classic boating. He would not want us to spend time eulogizing him, so we'll just say that we'll miss him dearly, that the Club owes much of its soul to his early and faithful work, and that we are better off for having spent time with him. Pat, you are, and always will be, welcome in the WBA.
We also extend condolences to Tom Hage, whose mom passed away this week in Minnesota.
Don't forget to set your clocks back an hour tonight! And save the date of Dec. 5th for the Christmas Party!

And finally, please take a look in the shed or garage for leftover parts or other salable items you can donate to the club. Bring them to any WBA meeting, or contact David Kanally at david@historywithheart.com for pickup.