Dana McCarthy Presents Upholstery Details at June Meeting
Dana McCarthy of Poseidon Boat Restorations of Haltom City presented his company's work on boat upholstery and interior design at the June 16th meeting of the WBA.

Dana showed a variety of fabrics for bimini tops, boat covers and boat cushion and dash upholstery. He discussed the virtues and drawbacks of each, and passed around some photos of his work.

WBA members are usually very happy when their restorations are ready to send to the upholstery shop, because that means that completion is near, and the final steps are in the hands of a pro! Learn more about Poseidon Boat Restoration's offerings at http://www.poseidonboatrestoration.com
Flippin' Party, Engine Rebuild Keep Lucas Shop Hoppin'
(Above) Step 1: The flipping team begins turning Chuck Barber's Borum outboard boat, which had been bottom up for months while Chuck replaced large plywood pieces on the aft section.

(Below) Step 3: The team gently lowers the boat onto the repositioned tires. They then used the shop's gantry to lift the boat so Chuck's refurbished trailer could be rolled underneath it.

(Below) Meanwhile, at Lew White's garage on Eastcreek Place in Plano, Lew and Bob Adair are dry side up on their sailing dinghy. They've since made a run to the lumber store for some mahogany for the seat, rails and rudder. The little boat is being built from plans by this duo.

(Above) Step 2: As the boat reaches the vertical position, tires are repositioned to cushion the boat as it is turned right-side-up.

(Below) Step 4: David Kanally, Chuck Barber, Jim Donovan, Scott Myers, Ken Mattice, Mark Wilson, Robin McGeorge and Glenn Nerwin take a well deserved break once the boat is lowered onto the trailer. Special thanks to Seb Borrello for these great photos. Watch the brief video here.

(Below) Jim Donovan sprays some PB Blaster into the body of the distributor from a Chris-Craft 350 V-8. The engine was donated some time ago by Matt Kramer, and is being restored to benefit the club. Jim Wolfe is chipping in some parts and some expertise for the project.
Next WBA Monthly Meeting July 21, 2016. Don't Miss It!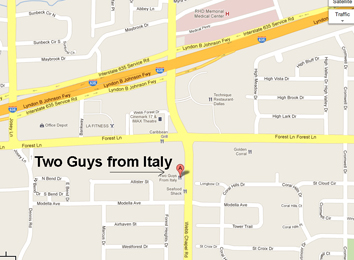 Our next meeting will be Thursday, July 21, 2016 at 7 p.m. at Two Guys from Italy at 11637 Webb Chapel Road, just south of Forest Road. We'll be continuing our door prize tradition, giving out a classic boating book from collections donated by Pat Baldwin and Bill McNally to a lucky winner.
Our meetings are a great opportunity to socialize with fellow WBA members and to talk shop on questions on everything from paint and varnish to carburetor kits. We'll discuss upcoming events and hear a fascinating presentation by East Texas WBA member Charles Still who, among other things, builds and operates radio-controlled scale models of Chris-Crafts and other boats.
As always, we'll have generous helpings of fellowship and Italian food.
Join us for a light meal and moderate libation at 5:30 p.m. at Two Guys from Italy prior to the meeting. We encourage you to join us for dinner, so we'll always have the required minimum number of diners to avoid a room charge.
Shop Talk and Musings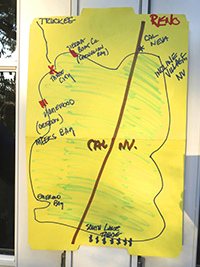 It's not unusual for a WBA member to have special talents outside the realm of antique and classic boating. From software engineering to graphic design to aviation, there are few skillsets beyond the competence of the WBA.
Artistic talent is also found in abundance within the club, our prime example being LR Daniels Art. But never have we seen art like Bill Kimball's before. As shown at left, Kimball is influenced by the Cubists, the Impressionists and especially the Abstract and Dada movements. His work shown here, entitled "Map of Lake Tahoe" is a masterpiece achieved in magic-marker-on-file-folder, an admittedly unconventional medium for such a chef d'oeuvre.
In the words of renowned art critic Jim Donovan, "In this exquisite example of post modernism art, Kimball has truly captured the raw level of emotion seldom shown by his peers, although to say that Kimball has "peers" is a stretch, at best. The use of colors and textures is reminiscent of Picasso or Van Gogh."
We couldn't have said it better ourselves. The Kimball rendering made a brief appearance at the Ray Harvey Party, and has now been returned to its archive for preservation.

And finally, please take a look in the shed or garage for leftover parts or other salable items you can donate to the club. Bring them to any WBA meeting, or contact David Kanally at david@historywithheart.com for pickup.