Bill Kimball Presents Tahoe Maritime Museum at May WBA Meeting!
Whenever you get Bill Kimball to talk about California's Lake Tahoe, you're in for a treat. Tahoe is one of Bill's favorite places, not only because of the wooden boat culture there and the annual Concours d'Elegance, but also for the treasures found at the Tahoe Maritime Museum.

Bill recently toured the museum and the surrounding area, and brought back pictures of magnificent boats and artifacts on display at the museum, including incredibly preserved boats that have been salvaged from the icy depths of the lake.

Bill's presentation also included a hand-drawn map of the lake, which should be in that museum someday. Future generations will be amazed! Thanks, Bill!
Project Update: Boat and Engine Change Hands, Other Projects Advance!
(Above) Jake and David of Kemah Boat Works stopped by the shop earlier this month to take possession of the Baldwin 1962 Cruisers, Inc. V202. They also scored a vintage Johnson 75 hp outboard motor to go with it from Walter Hill. The WBA's share of the boat proceeds was $1185.85, and Walter also donated the $200 he got for the engine. Thanks to Pat Baldwin and Walter for their generosity!

(Below) Robin McGeorge attaches the throttle cable bracket to the mid-60's Chris Craft 283 V-8 that he and Troy Marshall restored, in preparation for shipping.

(Below) You might think this is the final bottom paint coat on Chuck Barber's Borum outboard, since it looks so good, but it's just the first coat after primer!

(Above) Mark Wilson wrestles with the business end of the steering linkage for his 1968 Chris-Craft Grand Prix. He's also having the bronze rudder shaft straightened so it will fit properly and operate smoothly. Apparently, Mark's boat had quite a history before he bought it!

(Below) Robin spray paints "this end up" arrows on the packaged 283 to insure proper handling during shipping. The engine should be on its way north by press time. As the story goes, the new owner had a faulty engine in his Chris-Craft, and avoided lengthy and costly repairs by just buying this V-8 from Robin and Troy.

(Below) Chuck Barber has really taken pains to be sure that the restored bottom of his boat looks just right. This is Chuck's first restoration, but he's fast becoming a pro!
Next WBA Monthly Meeting June 16, 2016. Don't Miss It!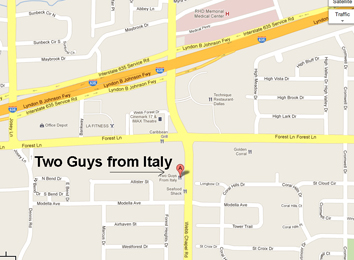 Our next meeting will be Thursday, June 16, 2016 at 7 p.m. at Two Guys from Italy at 11637 Webb Chapel Road, just south of Forest Road. We'll be continuing our door prize tradition, giving out a classic boating book from collections donated by Pat Baldwin and Bill McNally to a lucky winner.
Our meetings are a great opportunity to socialize with fellow WBA members and to talk shop on questions on everything from paint and varnish to carburetor kits. We'll discuss upcoming events like the "Mott Yott" cruise planned for June 25, and hear, as is our custom, an interesting and educational presentation on the world of antique and classic boating.
As always, we'll have generous helpings of fellowship and Italian food.
Join us for a light meal and moderate libation at 5:30 p.m. at Two Guys from Italy prior to the meeting. We encourage you to join us for dinner, so we'll always have the required minimum number of diners to avoid a room charge.
Shop Talk and Musings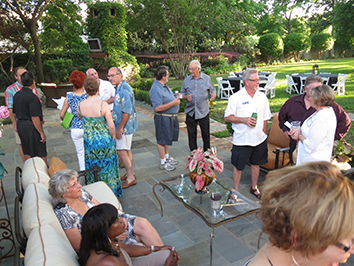 For the past several years, our fellow members and friends Ray and Carol Harvey have opened their home to allow us to celebrate the beginning of the boating season. This year, the party is on Friday, June 10. You should have received an eVite with all the details. If you haven't RSVP'd yet, please do so. If you've misplaced your eVite, or didn't receive one, please let Steve Griffitts know!

And finally, please take a look in the shed or garage for leftover parts or other salable items you can donate to the club. Bring them to any WBA meeting, or contact David Kanally at david@historywithheart.com for pickup.