WBA Loses Longtime Member, Friend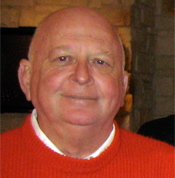 We regret to announce the passing of our dear friend Larry Hill, who died on April 30 following a 1 1/2 year battle with cancer. The photo at left is of Larry at the WBA 2009 Holiday Party. We'll remember Larry during these happier times, as a loyal member and friend.
There will be a memorial service for Larry on Wednesday, May 4, at 2:00 at New World United Methodist Church with a reception afterward. The church is located at 5134 Northwest Hwy, Garland, 75043.
Memorials may be made to the church in memory of Larry.
Next Monthly Meeting is May 19, 2011--Don't Miss It!
Join us at the Midway Point on Thursday, May 19th for the next monthly meeting of the WBA. We'll be finalizing details of the White Rock Centennial (June 24-26), and putting the finishing touches on the Ride 'n Show at Lake Ray Hubbard (Aug. 26-28). The meeting will begin at 7 p.m. on Thursday, May 19th at the Midway Point at LBJ and Midway Road.
Join us for a light meal and moderate libation at 5:30 p.m. at the Midway Point prior to the meeting.
Join us for Ray Harvey's Season Kickoff Bash, Friday, June 17!
Don't miss the WBA Season Kickoff Bash, to be hosted for the third year running by Ray and Carol Harvey at their beautiful home in Dallas, Friday evening, June 17. This event will take the place of the June meeting! Mark your calendars now! E-vites with directions and RSVPs coming soon!
Shop Talk and Musings:
Ride 'n Show details are falling into place fast! This year's event will take place on the docks of Rockwall on the shores of Lake Ray Hubbard, August 26-28. We're talking with Scott Self about a club cruise on the 40-foot wooden catamaran, Sea Wolf. Elizabeth Webster has done a great job of arranging for a special $103 rate at the host hotel, the Hilton Bella Harbor. Make your reservations now, and be sure to mention that you are a part of the WBA event to receive the special rate.
I would be remiss if I didn't confess how moved I was, seeing the videos of WBA events from the '90s that Seb Borrello brought to our April meeting. In addition to seeing some of our founding members who are no longer with us, I saw a bunch of guys enjoying our hobby to the fullest without paying for hotels, fancy banquets, registration fees or any of the other "line items" that seem to accompany our current shows and events. How refreshing is that!! While I wouldn't give up one bit of our exciting plans for the White Rock Centennial or the Ride 'n Show at its lovely new venue, I can't help but wonder if we may have lost a bit of our straightforward, simple fun along the way. Let me or our other officers know what you think.
And, finally:
Please take a look in the shed or garage for the leftover parts or other saleable items you can donate to the club. Bring them to any WBA meeting, or contact Phil Wolff at myoldboats@gmail.com for pickup.