Keels & Wheels is Almost Here!!
It's not too late to sign up for Keels & Wheels, the premier antique car and wooden boat show in the Southwest, April 30-May 1, 2011. Just a few hours' drive and you're there on the sumptuous grounds of the Lakewood Yacht Club, drooling over the finest antique and classic boats and cars you'll ever see anywhere! Want to get in free? Volunteer for the launching or judging team by contacting Bob Van Guilder.
White Rock Centennial Could Still Use 8 Boats!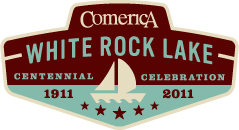 We're getting down to the wire on commitments for the once-in-a-lifetime opportunity to show your boat in the White Rock Centennial Celebration on White Rock Lake, June 24-26, 2011. Events include an open house on the first night, boat show on Saturday and Sunday, and the "Beach Party of the Century" going on all day and all evening on Saturday, complete with catered lunch and dinner food, at the historic Bath House. If you haven't already let David Kanally know that you will be there, please do so today. Our friends at For the Love of the Lake are counting on us! See their website. Check out the parade route.
Next Monthly Meeting is April 21, 2011--Don't Miss It!
Join us at the Midway Point on Thursday, April 21st for the next monthly meeting of the WBA. As our season begins, we'll be planning the carpools to Keels & Wheels, finalizing details of the White Rock Centennial, and putting the finishing touches on the Ride 'n Show at Lake Ray Hubbard. The meeting will begin at 7 p.m. on Thursday, April 21st at the Midway Point at LBJ and Midway Road.
Join us for a light meal and moderate libation at 5:30 p.m. at the Midway Point prior to the meeting.
Dues Blues!
You know who you are, and after today there's no more April foolin', so save us a stamp and send in your $35 for your 2011 dues to: John Parish, 4415 Rosser Square, Dallas, TX 75244. Thanks to all who have already renewed!
Shop Talk and Musings:
Over the past month, we've had a lot of activity going on in the planning of the Ride 'n Show, which will take place on the docks of Rockwall on the shores of Lake Ray Hubbard, August 26-28. We're talking with Scott Self about a club cruise on the 40-foot wooden catamaran, Sea Wolf, and negotiating with the hotels and local restaurants for our planned accomomodations and meals (thank you, Elizabeth Webster!). Stay tuned for full details next month!
And, finally:
Please take a look in the shed or garage for the leftover parts or other saleable items you can donate to the club. Bring them to any WBA meeting, or contact Phil Wolff at myoldboats@gmail.com for pickup.