DFW Boat Expo Yields Visibility, New Members
| The DFW Boat Expo, held Feb. 5-14 in Dallas Market Hall, was a busy and eventful undertaking for the WBA! (Right), Pat Baldwin channels Vanna White, showing off the various display materials in the Club's booth, including a new 8'x10' backdrop designed by Patrice Mozelewski, stand up displays and a video loop of WBA events. The backdrop was sponsored by Blue Sky Graphics and MarineMax. The Expo booth was arranged by Franklin Pillsbury of MarineMax (thank you Franklin!), giving our visitors plenty to look at and an opportunity to speak with one or more of the over 20 WBA volunteers who staffed the booth over the course of the event. Franklin says, "It was a great opportunity for the club to come together and share our brand and our story...not only to find new potential members, but to re-connect as well." | | |
| --- | --- | --- |
Projects Advance in Lucas, Dallas and North Richland Hills!
(Above) Robin McGeorge and Troy Marshall's 1956 Yellow Jacket Catalina has received its newly restored 1958 Mercury Mark 50 motor, which is sure to make this baby fly! The motor was restored by Tom Hage (see Nov. 2015 Bilge Pump).

(Below) Chuck Barber, with some help from Robin McGeorge, got the plywood bottom pieces properly cut, fitted, bedded and fastened, bringing this project along significantly.

(Below), Jim Donovan, Ken Mattice and Seb Borrello sand the decking and varnished insides of the Chris Craft kit boat donated by James Cooper.

(Below), Dennis Cheatham reports via Facebook that his 1958 Yellow Jacket has just lost 58 years worth of varnish.

(Above) Robin and Troy's Yellow Jacket is about ready to put on the market. Why not call Troy today and find out how you can keep this lovely boat in the WBA fleet!!

(Below) Chuck Barber has filled all the screw holes and seams on the bottom of his boat with thickened epoxy. The bottom is now ready for sealing, sanding and priming before the bottom paint goes on. Chuck travels 2-1/2 hours each way to the shop, making this project a labor of love!

(Below), Here's what the kit boat looks like at press time, gleaming with new varnish. One coat to go!

(Below), And this just in from Richland Hills, Prez Steve Griffitts has been busy steam bending and coaxing into place new chines and a keel for his '48 Speedliner Racing Runabout.
Next WBA Monthly Meeting March 17, 2016. Don't Miss It!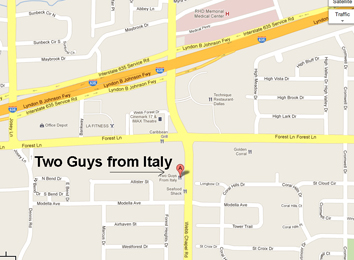 Our next meeting will be Thursday, March 17, 2016 at 7 p.m. at Two Guys from Italy at 11637 Webb Chapel Road, just south of Forest Road. WBA member and benefactor John Parish will be giving away one of his many boating and woodworking related books as a door prize.
Our meetings are a great opportunity to socialize with fellow WBA members and to talk shop on questions on everything from paint and varnish to carburetor kits. We'll be finalizing our plans for the Keels & Wheels launch support, and detailing other upcoming events, so please make a special effort to attend. Marc Hill will provide our program, discussing the restoration of his '68 Chris-Craft Grand Prix. Preview here!
As always, we'll have generous helpings of fellowship and Italian food.
Join us for a light meal and moderate libation at 5:30 p.m. at Two Guys from Italy prior to the meeting. We encourage you to join us for dinner, so we'll always have the required minimum number of diners to avoid a room charge.
A Message From Steve:
We had quite a lot of feedback from our February planning meeting, some of it favorable and some of it not so favorable.  Clearly, my approach and message missed the mark.  The following is my general understanding of the sources of discontent.
Some members would have preferred a more relaxed approach to the conduct of the meeting and felt that my presentation style was too structured and corporate, that it was all "lined out," and that my use of a PowerPoint presentation was off-putting.  However, while I intend to be fully prepared for every meeting, I can certainly take a more casual approach that makes people more comfortable.  Surely, I could have done a better job soliciting input and ideas from the meeting attendees.
The number of initiatives presented caused a sense of being overwhelmed to those who thought it was too ambitious and that we would never be able to find enough people to get them all done.  Further, issue was taken to the fact that they were predominately my ideas, rather than having been solicited from the membership.  Some members perceived that growth just for the sake of growth was being advocated.  I agree that the sheer number of initiatives proposed was ambitious, but they were simply ideas for the Club to consider with no real expectation that we would devote all our energy to accomplishing them this year or any year.  However, let's just wipe the slate clean and start all over again.  This time we'll focus on your ideas.
I want everyone to understand that I heard what you had to say.  I assure you I viewed your comments as constructive criticism and received them in a most accepting and appreciative manner.  I am truly grateful for your honesty and frankness.  I especially appreciate the kind counsel of David Kanally.
Please know that I understand that the WBA is not a business.  Rather, it is a social club where like-minded individuals come to have fun, enjoy the fellowship of long-term friends, and share their common passion, doing all of this in a relaxed, casual, and stress-free environment.  I intend to respect and honor the traditions, style, and culture of the WBA that have been developed over many years through the contributions and efforts of a large number of loyal members.  I hope we can go forward together and accomplish those goals with which we are all in agreement, whatever they may be.
Sincerely,
Steve Griffitts, President, WBA
Shop Talk and Musings
It's fair to say that we've been through a bit of choppy water the past few weeks, and it's also clear that our members care very much about our Club. We're sorry, but understanding, that Gay Perry has stepped down as our Secretary. She's done such a wonderful job for many years. Gay remains active in the Club, of course, and has already signed up for Keels & Wheels. Have you?
So we find ourselves looking for a new Secretary for the Club. Duties include attending monthly meetings, taking notes and drafting the meeting minutes for distribution to the members. If you would like to support the club by becoming its new Secretary, please let Steve Griffitts know. This is a great way to serve the WBA!

And finally, please take a look in the shed or garage for leftover parts or other salable items you can donate to the club. Bring them to any WBA meeting, or contact David Kanally at david@historywithheart.com for pickup.