Keels & Wheels is Almost Here!!
It's not too late to sign up for Keels & Wheels, the premier antique car and wooden boat show in the Southwest, April 30-May 1, 2011. Just a few hours' drive and you're there on the sumptuous grounds of the Lakewood Yacht Club, drooling over the finest antique and classic boats and cars you'll ever see anywhere! Want to get in free? Volunteer for the launching or judging team by contacting Bob Van Guilder.
Commit Now to Participate in White Rock Centennial!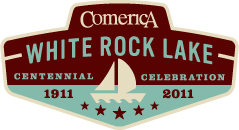 We're getting down to the wire on commitments for the once-in-a-lifetime opportunity to show your boat in the White Rock Centennial Celebration on White Rock Lake, June 24-26, 2011. If you haven't already let David Kanally know that you will be there, please do so today! We realize that it may be tough to commit this far out, but we also need to put forth our best effort for this important community event. Check out the parade route.
Next Monthly Meeting is March 17, 2011--Don't Miss It!
Join us at the Midway Point on Thursday, March 17th for the next monthly meeting of the WBA. Longtime WBA member and trend-setter Bill Baldwin will be sharing the important work going on at Chautaqua Lake, New York in the creation of a maritime museum. The meeting will begin at 7 p.m. on Thursday, March 17th at the Midway Point at LBJ and Midway Road.
Join us for a light meal and moderate libation at 5:30 p.m. at the Midway Point prior to the meeting.
Dues Reminder!
It's dues time again, so save us a stamp and send in your $35 for your 2011 dues to: John Parish, 4415 Rosser Square, Dallas, TX 75244. Thanks to all who have already renewed!
Shop Talk and Musings:
Momentum is a wonderful thing. The sawdust is flying at the shop and in members' garages. New folks are joining. And the weather is beginning to warm up. All these things remind us that the best ever season of antique and classic WBA boating is just around the corner. Get involved! Sign up for White Rock. Block your calendar for the Ride 'n Show.
And, finally:
Please take a look in the shed or garage for the leftover parts or other saleable items you can donate to the club. Bring them to any WBA meeting, or contact Phil Wolff at myoldboats@gmail.com for pickup.