Next Monthly Meeting is February 17, 2011--Don't Miss It!
Because of our Annual Banquet, there is no regular club meeting in January. Join us at the Midway Point on Thursday, February 17th for the next monthly meeting of the WBA. We'll be discussing our plans for the year as we lay out our annual calendar of events. A fascinating program on the Nimitz will be presented by WBA member Billy Hibbs. The meeting will begin at 7 p.m. on Thursday, February 17th at the Midway Point at LBJ and Midway Road.
Join us for a light meal and moderate libation at 5:30 p.m. at the Midway Point prior to the meeting.
Dues Reminder!
It's dues time again, so save us a stamp and send in your $35 for your 2011 dues to: Mark Webster, 4440 Beverly Drive, Dallas, TX 75205. Thanks to all who have already renewed!
Shop Talk and Musings:
Last month we showed you the very nice 3'x4' standup WBA display designed by Carlos Cordoza. This month, we're happy to feature the beautiful and functional hinged wooden base designed and crafted by Bob Adair. Bob fashioned the base from solid mahogany boards left over from the restoration of Chuck Pool's Yellow Jacket. The rails of the display have a groove with latches that lock the display at the optimal angle for viewing (below, left). The back of the stand features a removable brace that can hold a small sandbag or iron weight to assure stability of the display in drafty conditions. Bob used brand new hardware to allow the stand to fold into a compact space. Special thanks to Bob for this addition to our Club's display!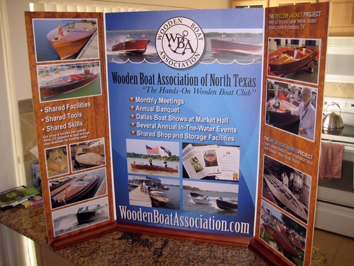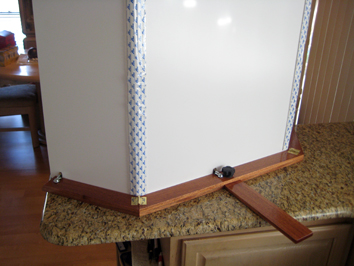 Don't forget to RSVP for The White Rock Centennial celebration coming June 24-26. We've sent invitations to over 100 Texas and Oklahoma wooden boat owners, many of whom are ACBS members but not WBA members, to join us in the displays and parade. We'll be keeping you up to date on the plans as they are formalized. Since this is a once-in-a-lifetime event, we want to make sure we get it right. We're shooting for a total of 30 boats, which would be a record for a WBA-organized event, if memory serves. If you can bring your boat, please let David Kanally know via email or phone at 940-395-2742. See the flyer. Check out the parade route.
And, finally:
Please take a look in the shed or garage for the leftover parts or other saleable items you can donate to the club. Bring them to any WBA meeting, or contact Phil Wolff at myoldboats@gmail.com for pickup.