Guest Night Packs the House for November WBA Meeting!
| More than 30 members and guests had us setting extra tables and chairs at the November 15 meeting of the WBA at Two Guys from Italy in North Dallas. Generous portions of Italian food, and festive levels of conversation marked the gathering. The annual Guest Night was well received by first comers and old timers alike! | | Tamber Johnson (above) of the photo/video production company, TAMCO Productions, provided the evening's program, showing the group, step by step, how the company used Scott and Thuy Myers' Gar Wood Ensign, "Ngo Said Yes" in a photo shoot for a Boston luxury condominium complex. Thanks, Scott and Tamber! |
| --- | --- | --- |
Donated Hafer: Prepping for Paint!
| Robin McGeorge, David Kanally and Jim Donovan apply a second reinforcing strip of fiberglass cloth to the new forefoot of the Hafer. The entire bottom has been covered with a sheet of fiberglass cloth and three coats of epoxy. (Seb Borrello photo) | | After removing the old registration numbers from the hull, Robin McGeorge fairs the edge of the fiberglass cloth at the stem, preparing for final sanding and paint. Recent fair weather has permitted good progress on this Club project, donated by Scott Reichardt. |
| --- | --- | --- |
Next WBA Monthly Meeting February 21st, 2019, Mark Your Calendar!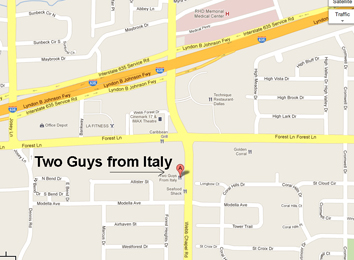 Our next meeting will be Thursday, February 21st, 2019 at 7 p.m. at Two Guys from Italy at 11637 Webb Chapel Road, just south of Forest Lane. We'll be continuing our door prize tradition, giving out a classic boating book from collections donated by Pat Baldwin and Bill McNally to a lucky winner.
Our meetings are a great opportunity to socialize with fellow WBA members and to talk shop on questions on everything from paint and varnish to carburetor kits. We'll be swapping stories of our various boating and project adventures. February's meeting is extremely important, as it will be our planning meeting for the coming boating season. Please come and share your ideas for our activities for the year. And, of course, we'll have generous helpings of fellowship and Italian food.
Join us for a light meal and moderate libation at 5:30 p.m. at Two Guys from Italy prior to the meeting. We encourage you to join us for dinner, so we'll always have the required minimum number of diners to avoid a room charge.
Shop Talk and Musings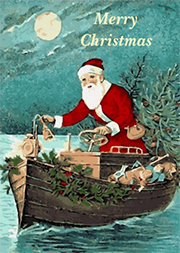 There are many ways to mark the passing years; most often, we count the years by our birthdays, those rapidly accumulating, bittersweet candle-fests that celebrate our increasing age. At this time of year, we also think of the many Christmases we have shared, but without counting.
We rarely say, this is my 60th Christmas or my 70th or my 80th. Yet we have celebrated about as many Christmases as birthdays.
We don't count Christmas years because the joy of Christmas is new each year. The celebration or observation of Christmas may be religious or secular, or both. In any case, we gather in fellowship with our friends and family with fresh holiday cheer, just as we have for years and years.
This Christmas season, I'm thankful for my WBA friends with whom I share this wonderful hobby. I look forward to seeing you at the party at David and Loretta's on December 9th. We've been having these Christmas gatherings for a lot of years now. But who's counting?
And finally, please take a look in the shed or garage for leftover parts or other salable items you can donate to the Club. Bring them to any WBA meeting, or contact David Kanally at david@historywithheart.com for pickup.