November WBA Meeting Features Guest Night, Baldwin Presentation
| While guests are always welcome at WBA monthly meetings, the November meeting is our traditional Guest Night, giving us a chance to recognize our spouses, friends and others who support us in our hobby or have an interest in antique and classic boating.  This year, we had a good turnout of guests to enjoy dinner and our program with us.  WBA member and archivist Pat Baldwin provided the program for the evening. | | Pat updated the Club on her involvement with the Lawson Boating Heritage Center on Chautauqua Lake, NY.  Pat calls Bemus Point, NY home in the summertime, and she continues the work that she and her late husband, Bill, began with the founding of TLC (The Lawson Center) several years ago.  Thanks, Pat, for a fine presentation, and for all you do for our Club and our hobby!  |
| --- | --- | --- |
Project Update from Lucas and Beyond!
(Above) Jim Donovan and Robin McGeorge found a good way to remove a stubborn flange from the prop shaft of Belinda Patterson's Chris-Craft Cavalier. By putting the shop's new 12-ton hydraulic press up on two tall chairs, they were able to get enough clearance for the shaft to be pushed out of the flange. Engine installation this weekend! (Borrello photo)

(Above and below) Dennis Cheatham shared these before and after shots of his beautiful restoration of a six-gallon Kiekhaefer Mercury gas tank. The tank will go nicely in Dennis' '58 Yellow Jacket Riviera, where he is likely to run a number of tankfuls of gas through the boat's 65-hp Merc outboard.

In other news, Grant Sedberry put motor mounts in his go-fast boat, and Guy McCollum's Fireball V-8 has been installed in his '65 Century Sabre.
WBA Monthly Meetings to Resume on February 15, 2018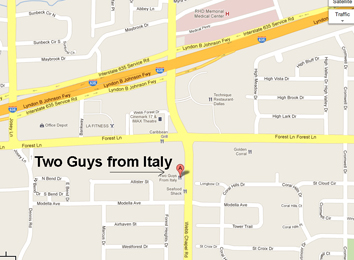 Holiday activities like the Christmas Party and our Annual Banquet take the place of our December and January meetings each year. So, our next regular meeting will be Thursday, February 15th, 2018 at 7 p.m. at Two Guys from Italy at 11637 Webb Chapel Road, just south of Forest Lane. We'll be continuing our door prize tradition, giving out a classic boating book from collections donated by Pat Baldwin and Troy Marshall to a lucky winner.
Our meetings are a great opportunity to socialize with fellow WBA members and to talk shop on questions on everything from paint and varnish to carburetor kits. As always, we'll have generous helpings of fellowship and Italian food.
Join us for a light meal and moderate libation at 5:30 p.m. at Two Guys from Italy prior to the meeting. We encourage you to join us for dinner, so we'll always have the required minimum number of diners to avoid a room charge.
Shop Talk and Musings: 'Tis the Season!
It's hard to believe that 2018 is almost here, and that it's time to turn our thoughts toward the upcoming holidays. Our neighborhood is already gleaming with colored lights as folks get ready for their traditional celebrations. The WBA tradition is a Christmas Party at the home of our president, and we hope to see you there next Saturday, December 9. If you haven't RSVP'd for the party, please do so today.
One of our early 2000s WBA Christmas parties was at the home of Johnny and Joanie Williams, true Dallas wooden boating royalty. Although this fine couple is no longer with us, we keep warm memories of their hospitality, humor and generosity in our hearts.
On January 13, 2018, the WBA will hold its annual Officer Installation Banquet at the Brookhaven Country Club in Farmers Branch (note: this is a new venue for us! Don't go to last year's venue, we won't be there!) An evite has been sent. If you didn't get one, let David Sheets know.
And finally, please take a look in the shed or garage for leftover parts or other salable items you can donate to the Club. Bring them to any WBA meeting, or contact David Kanally at david@historywithheart.com for pickup.