James Propeller Provides Power to November Meeting!
| Doug Harris of James Propeller gave an informative presentation on the design, construction, maintenance and repair of propellers for inboard, outboard and stern-drive boats.  Doug explained how the proper prop, pitch and diameter are determined to assure best rpm and power performance from a boat's engine. James also does propeller repair. The staff remove damaged metal, reset | | the props, weld new metal to replace damaged sections, then grind the props to original spec.  Following grinding, the props are balanced and cupped, then re-balanced to assure optimum performance. Thanks, Doug! This meeting was our Guest Night, and we were very happy to welcome a number of spouses and other guests! |
| --- | --- | --- |
News on other WBA Member Projects!
(Above) Sitting pretty on the shop floor in Lucas is this fully rebuilt Chris-Craft 327 V-8 engine, just waiting for a quick refresh and test, followed by a sale to a lucky WBA member. If you're interested in this engine, contact David Kanally. This engine was donated to the Club by longtime member and WBA stalwart Guy McCollum of Fort Worth. The engine has been fully rebuilt, but has sat for a while. Why not take on the refresh work yourself and get a deal!

(Below) Lew White and Bob Adair have been making good headway on their little sailing dinghy. Lew reports that all the wood shavings on the floor are from the work on the mast (clamped to workbench in background).

(Above) Dennis Cheatham has completed his numerous spray coats of clear on the beautiful mahogany hull of his '58 Yellow Jacket, and it looks like a piece of jewelry!

Yellow Jacket began using mahogany for their molded hulls in 1957, having run into some dry rot problems with its earlier birch hulls. They not only solved the rot problem, they improved the beauty of their hulls significantly.

(Below) Lew says his smoothing plane is hot from so much work on forming the mast! All we know is, this little boat will be a real treat to own and sail, once she's complete. The WBA isn't just about power boats!
Next WBA Monthly Meeting February 16, 2017. Planning Session!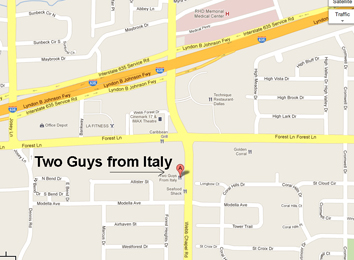 Our next meeting will be Thursday, February 16, 2017 at 7 p.m. at Two Guys from Italy at 11637 Webb Chapel Road, just south of Forest Road. We'll be continuing our door prize tradition, giving out a classic boating book from collections donated by Pat Baldwin and Bill McNally to a lucky winner.
Our meetings are a great opportunity to socialize with fellow WBA members and to talk shop on questions on everything from paint and varnish to carburetor kits. February is our big planning month, when we lay out our calendar for the year and discuss plans for the Ride 'n Show and other events. Please make a special effort to be there. As always, we'll have generous helpings of fellowship and Italian food.
Join us for a light meal and moderate libation at 5:30 p.m. at Two Guys from Italy prior to the meeting. We encourage you to join us for dinner, so we'll always have the required minimum number of diners to avoid a room charge.
Shop Talk and Musings
Since it's a little brisk for boating these days, why not consider having a day at the Shop in Lucas? There's always something good going on there, like the work on the donated '56 Holiday, or Chuck Barber's boat, or engine work. In addition, the shop is in need of cleaning. Why not stop out some Saturday morning and take on the cleaning of a corner of the shop, helping us keep things in order? Access to the Lucas Shop is a benefit to our members, and this would be a good chance for you to support the shop, even if you don't have a project going on there.
And finally, please take a look in the shed or garage for leftover parts or other salable items you can donate to the club. Bring them to any WBA meeting, or contact David Kanally at david@historywithheart.com for pickup.