| | | Each January, members, spouses and guests of the WBA gather at the Canyon Creek Country Club to recognize the service of the Club's officers and volunteers, to celebrate the year just past, and to look forward to the boating season ahead. This year's banquet will be held on Saturday, January 24, beginning at 6 p.m. for cocktails, 7 p.m. for dinner. The Canyon Creek Country Club puts on a very nice buffet for the event, and a boating-related program of interest to the whole audience rounds out the evening. Registration is open now, so you can begin that process by clicking here. If you don't have a computer, you can send your check for $37.50 per person and the names of your attendees to John Parish, 4415 Rosser Square, Dallas, TX |
| --- | --- | --- |
New Video on Wolfe, Selah Highlight Guest Night
| | | Jim and Rhonda Wolfe invested nearly a decade of their lives in the location, procurement and restoration of a 1959 Century Coronado. But the story runs much deeper than the average boat restoration saga. Jim's Grandad owned a similar boat back when Jim was a kid, so Jim's earliest childhood memories include the Coronado. Members and guests of the November WBA Guest Night meeting saw brand new video of Jim telling his story, and gained new appreciation not only for the years of work that were required to bring the Coronado back to life, but also for the importance of the boat in the collective memory of Jim's extended family. If you missed the meeting, you can watch the video here. |
| --- | --- | --- |
Lucas Projects Keep WBA Craftsmen Busy
(Above) Robin McGeorge and Troy Marshall's '36 Chris Craft Deluxe Runabout gleams with its final coat of varnish. (Below), Curtis Irwin is in the disassembly phase of his Chris-Craft Super Sport, and has gained access to the engine. One of his key tools, visible in the photo, is a box of "Xtreme Rags". We've all been there!

(Below) Walter Hill is awaiting some materials to refurbish the bottom of his plywood-on-frame cruiser. Meanwhile he's torn out the old, rotted windshield frame.

(Above) The Chrysler Marine flat-head six is back in the bilge of Robin and Troy's '36 Chris, all hooked up and wired. Blankets and moving pads protect the freshly varnished woodwork as the boys climb around the bilge. (Below) Bill Baldwin swears there'll always be work to do on his Cruisers, Inc. 16-footer, model V202.

(Below) Walter Hill has laid out the basket-case remains of his cruiser's windshield frame, tracing and mirror-imaging the radius of the old pieces in order to create new ones.
No Regular Monthly Meetings in Dec. or Jan., Next Meeting Feb. 19, 2015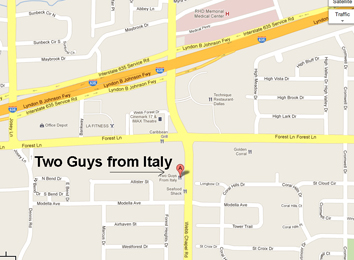 Because of the Christmas Party in December and the Banquet in January, our next monthly meeting will be Thursday, Feb. 19th, 2015 at 7 p.m. at Two Guys from Italy at 11637 Webb Chapel Road, just south of Forest Road. WBA Treasurer and benefactor John Parish will be giving away one of his many boating and woodworking related books as a door prize.
This will be our annual planning meeting, so it's important for you to attend. And, as always, we'll have generous helpings of fellowship and Italian food.
Join us for a light meal and moderate libation at 5:30 p.m. at Two Guys from Italy prior to the meeting. We encourage you to join us for dinner, so we'll always have the required minimum number of diners to avoid a room charge.
Shop Talk and Musings
Lady in Red (and White)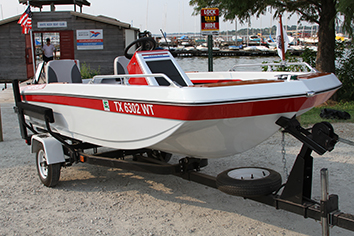 Among the beautiful classic glass boats in our Club is Bob Adair's 1976 Chrysler 16' custom. This boat is unlike any other on earth, quite simply because Bob built the boat of his dreams. As you probably know, Bob worked for many years in the design of Chrysler cars and boats, most recently right here in Plano. And there was a boat similar to this one on the drawing board just before Chrysler discontinued its boat manufacturing operations.
Bob always wondered what the boat would be like in real life, so when he got the chance, he created this innovative, one-off design, which combines attributes of a personal watercraft, a runabout and a fishing boat. Arrayed with a center console and number of storage compartments hidden in every imaginable place, the boat goes beyond the original concept by quite a bit. "I went a little overboard, I guess," says Bob. Bob, we think the extra effort paid off! The WBA welcomes classic glass boats, defined as a fiberglass-hulled boat 25 years old or older.
And finally, please take a look in the shed or garage for leftover parts or other salable items you can donate to the club. Bring them to any WBA meeting, or contact David Kanally at david@historywithheart.com for pickup.