Next Regular Meeting February 20, 2014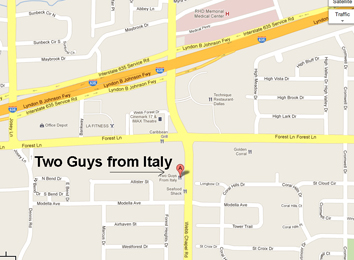 Because of the Christmas Party in December and the Banquet in January, our next regular monthly meeting won't be until February. Join us on Thursday, Feb. 20, 2014 at 7 p.m. at Two Guys from Italy at 11637 Webb Chapel Road, just south of Forest Road. WBA Treasurer and benefactor John Parish will be giving away one of his many boating and woodworking related books as a door prize. We are looking for just the right person to present the program. Maybe thats you!
Join us for a light meal and moderate libation at 5:30 p.m. at Two Guys from Italy prior to the meeting. We encourage you to join us for dinner, so we'll always have the required minimum number of diners to avoid a room charge.
Shop Talk and Musings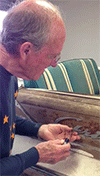 As WBA members, we share experiences of all the different stages of boat restoration. This month, we'd like to recognize Longview, TX WBA member Charlie Still for taking that all-important first step, removing the hardware. Sometimes the first step is the hardest one, not because of technical difficulty, but because it marks the end of our procrastination and the beginning of progress toward the boat we've been dreaming about. Charlie and his son are now fully engaged in the restoration of a 1967 18-foot Chris Craft Super Sport. Good luck, guys!
The WBA can be a source of information and advice to all its members, regardless of their location. Even if you live far from the Dallas area, please know that your updates, photos, ideas and stories are always welcome.
And, finally: Please take a look in the shed or garage for the leftover parts or other saleable items you can donate to the club. Bring them to any WBA meeting, or contact David Kanally at david@historywithheart.com for pickup.