Project Updates from the Robin McGeorge Boat Shop and Beyond!
(Above) Bill Mott tips a sealer coat of varnish on the hull sides of Joel Odom's Yellow Jacket.

(Above) Carl Lapiska positions a bronze frame brace before bedding and fastening to a frame of his Chris-Craft Super Sport.

(Above) Phil Brosseau wires the bilge pump in the Century Partners' Century Sabre, while Alan Oppenheimer takes a break from multiple finishing tasks.

(Above) Barney Gulley has faired the bottom of his 1957 Yellow Jacket and prepped the bottom for primer.

(Above) Ted Dysart and Carl Lapiska screw the lower transom plank onto Ted's Century Sabre after applying a generous bedding of 3M 5200 adhesive sealant.

(Above) The grain really shows through beautifully on both the mahogany deck and blond darts of Joel's Yellow Jacket.

(Above) Carl has cleaned and polished the bronze bilge hardware of his Super Sport, including the shaft log plate and frame brace.

(Above) The aft lift ring, gas cap and stern pole of the Century Partners' Sabre glisten in the bright LED lights of the shop.

(Above) Barney applied the primer onto his Yellow Jacket's bottom just in time to get this photo into the Bilge Pump!

(Above) By the time the fastening was complete, Ted's transom plank was pulled in tight and is there to stay. Lots of precision fitting and patience involved in this process.
Next Monthly Meeting November 16th at Two Guys, Don't Miss It!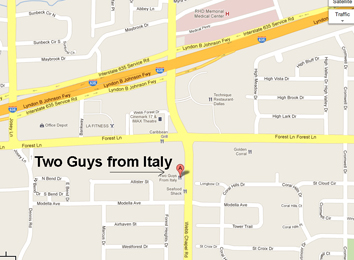 Our next meeting will be Thursday, November 16, 2023, at 7 p.m. at Two Guys From Italy in Dallas. You'll receive an email reminder for the meeting a few days prior. We'll be continuing our door prize tradition, giving out an e-book, or print book of the lucky winner's choice, or a complimentary design of a boat show placard. The meeting will include a presentation of general interest to the classic boating community.
If you can't join in person, you'll be using the Zoom application for your cell phone or your home computer. To make things easier at meeting time, it would be a good idea for you to go to your normal smart phone app store to download Zoom Cloud Meetings, or go to Zoom.us on your home computer and sign up. Prior to the meeting, you will be sent an email with a link to join the meeting, and further instructions. Those who wait to download Zoom will also receive a link to do that just before the meeting starts. If you are among those who need a few attempts to be successful with technology, you may want to get the downloading taken care of ahead of time.
Our meetings are a great opportunity to socialize with fellow WBA members and to talk shop on questions on everything from paint and varnish to carburetor kits. Please join us on Zoom to be a part of our monthly fellowship!
Shop Talk and Musings: Let's Get Together!
Like many organizations and companies, the WBA seems to be recovering well from the strange time of separation we experienced during the Covid pandemic. However, we haven't come all the way back yet in terms of meeting attendance and show participation. We believe that while a few people may have personal health reasons for avoiding these gatherings, it's probably time that we make an extra effort to be present at the events we've planned together. Our next opportunities will be the November 16 monthly meeting and the Christmas Party on December 2. When you receive notices for these events, please respond to the positive. The more the merrier!
And finally, please take a look in the shed or garage for leftover parts or other salable items you would like to donate to the Club. Contact David Kanally at david@historywithheart.com for more info.