Project Updates from the Lucas Shop and Beyond!
(Above) Robin McGeorge was on hand to oversee the recent flipping of the Hallams' Yellow Jacket Catalina. The bottom needed to be stripped and treated before finishing.

(Above) Ann Hallam and Bill Mott apply a coat of CPES to the bottom of the Hallams' '58 Yellow Jacket Catalina. The hull is in excellent shape.

(Above) Phil Wolff had a flipping party for his Coronado recently, with about 10 neighbors and WBA members participating at Phil's home in Dallas.

(Above) Carl Lapiska's '64 Chris-Craft Super Sport has a wonderfully flat sanded varnish surface, all ready for coat # 8. Carl is doing it right.

(Above) Alan Oppenheimer uses a heat gun to remove three layers of old bottom paint from the Catalina. It was a darker yellow originally, then white, then bright yellow.

(Above) Seb Borrello steadies the motor stand while David Kanally and Jim Donovan lift the Johnson 40 horse outboard from the transom of the Hallams' Catalina

(Above) Ted Dysart recently moved his '61 Century Sabre into the shop, and is removing the lower transom plank to get access to some frame and plank damage on the bottom.

(Above) Jay Emerson has a very sleek, mid-80s Carter runabout in his shop, and he's on his way to bringing it to show standards. Can't wait!
Next Monthly Meeting November 17th at Two Guys is Guest Night!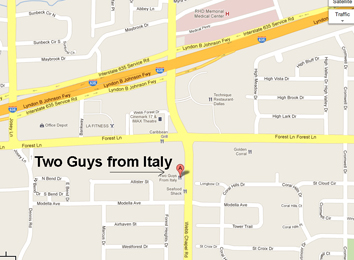 Our next meeting will be Thursday, November 17th, 2022, at 7 p.m. You'll receive an email reminder for the meeting a few days prior. As we have often done in recent years, we're making this meeing a guest night. Invite your spouse, significant other or guest, and the club will reimburse you for $10 toward your guest's dinner! We'll be continuing our door prize tradition, giving out an e-book of the lucky winner's choice, or a complimentary design of a boat show placard.
If you can't join in person, you'll be using the Zoom application for your cell phone or your home computer. To make things easier at meeting time, it would be a good idea for you to go to your normal smart phone app store to download Zoom Cloud Meetings, or go to Zoom.us on your home computer and sign up. Prior to the meeting, you will be sent an email with a link to join the meeting, and further instructions. Those who wait to download Zoom will also receive a link to do that just before the meeting starts. If you are among those who need a few attempts to be successful with technology, you may want to get the downloading taken care of ahead of time.
Our meetings are a great opportunity to socialize with fellow WBA members and to talk shop on questions on everything from paint and varnish to carburetor kits. Please join us on Zoom to be a part of our monthly fellowship!
Shop Talk and Musings: Sharing WBA Knowledge at a Distance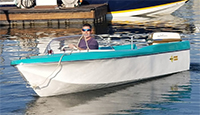 Here's Eric Wueste, who lives in the Conroe, TX area, on his maiden voyage in his nicely restored fiberglass Yellow Jacket at the LBJ show on October 8. The rare boat was brought back to life by Eric (who, by the way, restored a vintage camper at the same time). So Eric has good skills already. But, he needed some help from the WBA Yellow Jacket guys to fabricate some seat springs, build some seats, and source some parts. He was able to do all this by email, text and phone, with the exception of learning the seat spring fabrication process. He made one visit to the shop to build one spring, then borrowed the shop's jig to make three more at home. He then mailed the jig back to us. So, as Eric has shown, you can benefit from WBA membership in very hands-on ways, even if you live far from Dallas. Great work, Eric!
And finally, please take a look in the shed or garage for leftover parts or other salable items you would like to donate to the Club. Contact David Kanally at david@historywithheart.com for more info.