Hardwood Lumber Co. Shares Wares at October Meeting
Wright King, owner and partner at Hardwood Lumber Company, came to show the selection and capabilities available from his company located on Goodnight Road in west Dallas near Walnut Hill and I-35.

Hardwood Lumber Co. is a premium supplier of wood products and custom millwork. Started in 1986 by Wright and his partner, the company deals in traditional native and tropical exotic woods. Mahogany from the Philippines to Malaysia, ash, oak, cherry, walnut, hickory, and cypress are all available in many lengths and thicknesses. The company has all the right equipment from a planer/sander to an oversize table saw, and a tongue and groove machine. Thanks, Wright, for a good presentation! Learn more at: http://www.hlcdallas.com
Donated Hafer: Sealing the Deal.
| Robin McGeorge and Seb Borrello have been making measurable progress on the bottom of the donated Hafer. Here, the bottom has been faired and sanded, and treated with a generous application of CPES. (Clear Penetrating Epoxy Solution). | | Next, Seb and Robin cut sheets of fiberglass cloth to roughly fit bottom. Next step will be the application of epoxy to wet in the fiberglass cloth, followed by top coats of expoxy for a smooth finish. This technique is known as the "West System" bottom. |
| --- | --- | --- |
Next WBA Monthly Meeting November 15th, 2018. Don't Miss This Guest Night!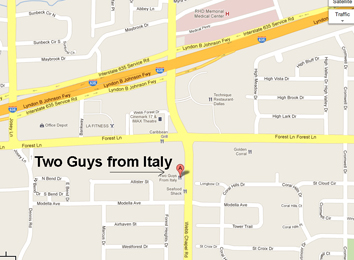 Our next meeting will be Thursday, November 15th, 2018 at 7 p.m. at Two Guys from Italy at 11637 Webb Chapel Road, just south of Forest Lane. We'll be continuing our door prize tradition, giving out a classic boating book from collections donated by Pat Baldwin and Bill McNally to a lucky winner.
Our meetings are a great opportunity to socialize with fellow WBA members and to talk shop on questions on everything from paint and varnish to carburetor kits. We'll be swapping stories of our various boating and project adventures. As is our tradition, our November meeting is Guest Night, so the Club will pay $10 toward the dinner of your spouse, your significant other, or your invited guest. And, of course, we'll have generous helpings of fellowship and Italian food.
Join us for a light meal and moderate libation at 5:30 p.m. at Two Guys from Italy prior to the meeting. We encourage you to join us for dinner, so we'll always have the required minimum number of diners to avoid a room charge.
Shop Talk and Musings
We'll dispense with the usual reminder to winterize your engine, because if you forget to do it once, the damage to your block or outboard lower unit will cost you a bundle and you'll never forget again. So no need to remind you here...or to ask you if you've made a note to take care of it before the first freeze.
On another note, I (David Kanally) would like to apologize for the confusion over the go/no go call on the Crusin' Lake Lewisville show on October 20. There was a misunderstanding between Katina and me, and I jumped the gun on notifying the Club of a cancellation. When we learned that the weather was forecast to clear and the show was on for sure, I didn't communicate that completely, either! So we had a few folks who were surprised to learn that the show was on. My bad. Thanks to those who answered the call to bring their boats. Special thanks to Katina for organizing the food, the entertainment and the participation of all the folks who brought cars and boats to the show.
And finally, please take a look in the shed or garage for leftover parts or other salable items you can donate to the Club. Bring them to any WBA meeting, or contact David Kanally at david@historywithheart.com for pickup.