Next Meeting November 21st. Don't miss it!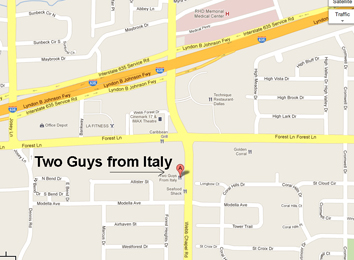 Join us on Thursday, November 21st at 7 p.m. at Two Guys from Italy at 11637 Webb Chapel Road, just south of Forest Road. WBA Treasurer and benefactor John Parish will be giving away one of his many boating and woodworking related books as a door prize. Our main task will be election of officers.
WBA's éminence grise Bill Baldwin will share an interesting update on the Lawson Center at Chautuaqua Lake, NY. Bill has been instrumental in the development of this very high-quality museum, and its progress has been the stuff of legend. We look forward to hearing what insights Bill has to offer!
Join us for a light meal and moderate libation at 5:30 p.m. at Two Guys from Italy prior to the meeting. We encourage you to join us for dinner, so we'll always have the required minimum number of diners to avoid a room charge.
Shop Talk and Musings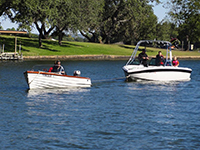 Every time we attend an event, some pleasant surprise happens. Usually, it's meeting a new member or seeing a freshly restored boat for the first time. The Ride 'n Show saw the christening of Jim and Rhonda Wolfe's beautiful Century Coronado, an event which marked a lifelong dream for Jim. At the Lake LBJ show, Kerry Price's Chris-Craft was splashed, marking the culmination of a decade-long restoration effort. These events are not only personal victories for the boats' owners and restorers, they are also shots in the arm for the clubs. "Our members did this!", we can say with pride. I will confess that Cheryl and I had a minor moment of pride, too, when we towed in a disabled plastic boat that had hit a sandbar at Lake LBJ. Thanks to Rhonda Wolfe for the photo.
And, finally: Please take a look in the shed or garage for the leftover parts or other saleable items you can donate to the club. Bring them to any WBA meeting, or contact David Kanally at david@historywithheart.com for pickup.