Guest Night Meeting is November 15, 2012. Don't miss it!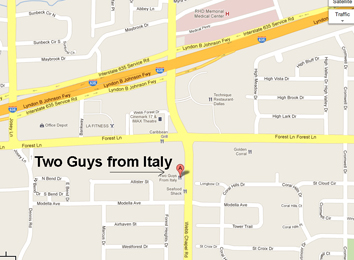 It's the meeting you've been waiting for, Guest Night! Join us on Thursday, November 15th at 7 p.m. at Two Guys from Italy at 11637 Webb Chapel Road, just south of Forest Road. Bring your spouse, your significant other, your main squeeze, your soul mate, your BFF! Your guest's dinner will be on the club! WBA Treasurer and benefactor John Parish has begun a monthly giveaway of one of his many boating and woodworking related books as a door prize. The November meeting will feature "The New Complete Guide to the Bandsaw" by Mark Duginske. Our program will be given by John Parish, who promises a presentation of extreme interest and value! Join us for a light meal and moderate libation at 5:30 p.m. at Two Guys from Italy prior to the meeting. We encourage you to join us for dinner, so we'll always have the required minimum number of diners to avoid a room charge.
Shop Talk and Musings: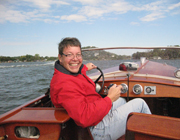 Mark your calendar: the WBA Holiday Party is Saturday December 1, from 6:30 p.m. - 9 p.m. at our house in Coppell. Invitations to follow.
Sometimes we may forget just how much we love boating. I was reminded of my love of boating when I opened this photo from Seb Borrello in my email on Tuesday morning. Geez, looks like my face is going to break! Seb was on the rear seat of our 1957 Cowell runabout on Lake LBJ at the 30th annual Austin Hill Country Boat Show. We decided it was a good time to take a boat ride. The old Merc was humming nicely, and we cut through the chop comfortably at about 20 knots. Seb asked me to turn around for a picture, and that was it! What a great time we had at that event. Special thanks to Scott and Jim for another great show. On another note, I stopped by Lew White's place in Plano last week, where Bob Adair and Lew were getting ready to sand between coats of paint on the hull of Bob's Yellow Jacket project. We looked over some conceptual drawings Bob made for the Yellow Jacket bench project (see your October minutes for details). It's an added benefit of WBA membership to be affiliated with talented folk like Bob and Lew. Nice guys, too! See you soon.
And, finally:
Please take a look in the shed or garage for the leftover parts or other saleable items you can donate to the club. Bring them to any WBA meeting, or contact David Kanally at david@historywithheart.com for pickup.