Robin's Cavalier Comes Back Home!
| About a decade ago, Robin McGeorge restored and converted a 15.5' Chris-Craft Cavailer utility into a double cockpit runabout. He sold it to a friend who had it on Lake LBJ, and was ready to pass the boat on. (Above) Robin varnishes the engine hatch covers while a fresh coat of varnish on the deck dries. | | Robin was pleased to be able to buy the boat back, and effect a freshen-up of both the boat and trailer, getting it ready for its next lucky owner. (Above) Robin buffs out the engine hatch covers with Maguire's Ultimate. Let Robin know if you're interested in the cute little boat. It's powered by a 60-HP Chris/Hercules 4-cylinder engine. |
| --- | --- | --- |
Next WBA Monthly Meeting October 17, 2019, Mark Your Calendar!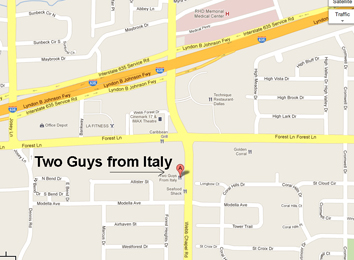 Our next meeting will be Thursday, October 17th, 2019 at 7 p.m. at Two Guys from Italy at 11637 Webb Chapel Road, just south of Forest Lane. We'll be continuing our door prize tradition, giving out a classic boating book from collections donated by Pat Baldwin to a lucky winner.
Our meetings are a great opportunity to socialize with fellow WBA members and to talk shop on questions on everything from paint and varnish to carburetor kits. We'll be swapping stories of our various boating and project adventures. Plus, we'll have a presentation of general interest to antique and classic boating enthusiasts. And, of course, we'll have generous helpings of fellowship and Italian food.
Join us for a light meal and moderate libation at 5:30 p.m. at Two Guys from Italy prior to the meeting. We encourage you to join us for dinner, so we'll always have the required minimum number of diners to avoid a room charge.
Shop Talk and Musings: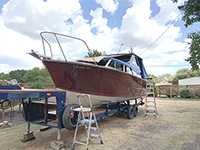 If you live in North Texas and are restoring a 28-foot Owens cabin cruiser in your big back yard, you're probably just crazy enough to belong to the Wooden Boat Association! That's the case with WBA member, Lou Zettler, who's been learning first-hand all the different techniques for the structural, cosmetic, eletrical and mechanical restoration of the cruiser. His year-long project is nearing completion now. Lou invited your editor, David Kanally and your projects chairman, Robin McGeorge out to his place in southeast Allen to have a look at the boat, and to receive Lou's donation of a sizeable treasure trove of restoration parts and supplies. The Lucas Shop's supplies of clamps, hoses, fasteners, wire, switches, penetrating epoxy and more have been enriched significantly. Some of the donated materials may be of interest to our membership, so stop by some Saturday morning and have a look. Any proceeds will benefit the shop fund. Many thanks, Lou!
And finally, please take a look in the shed or garage for leftover parts or other salable items you can donate to the Club. Bring them to any WBA meeting, or contact David Kanally at david@historywithheart.com for pickup.