Charles Still Shares ACBS Show Experiences at September Meeting
We love it when the Stills make it to Dallas from their home in Bryan to be with us at a WBA event! On September 19th, Charles presented the program at the full-house monthly WBA meeting.

Bringing pictures and stories from the ACBS International Show in Racine, Wisconsin from two weeks prior, Charles shared their experiences, not only of the displays and programs associated with the ACBS event, but also of their side trip to Racine. Featured on the side trip were visits to buildings designed by famed architect Frank Lloyd Wright, whose "Prairie Style" mid-century designs were trend setting and technologically innovative. Wright designed the Racine headquarters of S.C. Johnson & Co. (Johnson's Wax) as well as several private residences. Thanks, Charles!!
Project Update from Lucas Motorheads!
(Above), Donny Lawson's Continental has been in the shop for a new transmission for the past few weeks. Robin McGeorge found a new transmission and rear engine mount in Illinois, and, as it turned out, the seller attended the ACBS show in nearby Racine, WI. So, Jim and Rhonda Wolfe brought the transmission and engine mount back with them, and the replacement parts fit just fine. With some help from David Kanally, Robin McGeorge got the engine and transmission working like new. By Bilge Pump press time, the engine should be on its way back into the boat.

(Above), David Kanally lowers the V-8 engine from new member Belinda Patterson's Chris-Craft Cavalier onto a dolly before he, Belinda and David Sheets lurched the weighty powerplant into the shop. (Sheets photo)

Belinda's boat is now in residence at the Lucas Shop. Engine work will begin as soon as Donny Lawson's Continental is completed and moved out. This block has already been rebuilt, so the majority of the engine work will involve reassembly, bench testing and installation into the Cavalier.
Next WBA Monthly Meeting October 19, 2017. Don't Miss It!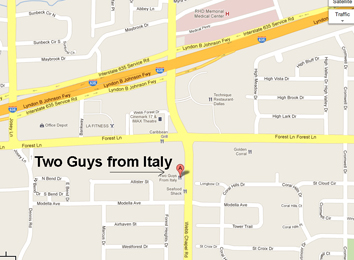 Our next meeting will be Thursday, October 19th, 2017 at 7 p.m. at Two Guys from Italy at 11637 Webb Chapel Road, just south of Forest Lane. We'll be continuing our door prize tradition, giving out a classic boating book from collections donated by Pat Baldwin and Bill McNally to a lucky winner.
Our meetings are a great opportunity to socialize with fellow WBA members and to talk shop on questions on everything from paint and varnish to carburetor kits. We'll feature a presentation of special interest to antique and classic boaters, of course. As always, we'll have generous helpings of fellowship and Italian food.
Join us for a light meal and moderate libation at 5:30 p.m. at Two Guys from Italy prior to the meeting. We encourage you to join us for dinner, so we'll always have the required minimum number of diners to avoid a room charge.
Shop Talk and Musings: Holidays Just Around the Corner
The approach of the holiday season is an exciting time in the life of the WBA. First comes the WBA Christmas Party, slated this year for December 9 at the home of our president and first lady, David and Loretta Sheets. You should have received an evite to the event in your email already. If you're a new member, or did not receive an evite, please let David Sheets know.
Then, on January 13, the WBA will hold its annual Officer Installation Banquet at the Brookhaven Country Club in Farmers Branch (note: this is a new venue for us! Don't go to last year's venue, we won't be there!) A "save the date" email has been sent, and you should receive an evite soon.
And finally, please take a look in the shed or garage for leftover parts or other salable items you can donate to the Club. Bring them to any WBA meeting, or contact David Kanally at david@historywithheart.com for pickup.