Davis, Bauer Make Trip from Michigan for Sept. Meeting
| After a good bit of coordination and organization by WBA VP Steve Griffitts and member Jay Emerson, the dynamic duo of Sheila Davis and Frank Bauer journeyed from Michigan to Dallas and Pottsboro. Frank (above right) presented an epic restoration story about his Chris-Craft Cobra at the September 19, WBA meeting, where Sheila also met club members. | | The very next day, Sheila and Frank traveled to Jay Emerson's shop in Pottsboro, where Sheila applied gold leaf lettering to a number of boats, including Scott and Thuy Myers' Gar Wood (she's using the stencil above left; finished product can be seen in White Rock story above). Thanks to Frank and Sheila for sharing their knowledge and skill! |
| --- | --- | --- |
Lucas Shop Hosts Another Yellow Jacket Restoration!
| (Above) Robin McGeorge tows the newly acquired 1956 Yellow Jacket Catalina upon its arrival in Dallas. Troy Marshall and David Kanally were also along on the trip in from Weatherford, where the boat changed hands from WBA member Charles Browder, to Troy and Robin. | | This will be the second '56 YJ Catalina restored by WBA members; the first was Chuck Pool's YJ, done by Lew White, Bob Adair and David Kanally in 2009-2010. Troy and Robin can see what they're in for in this slide show. This will make a great boat for a new WBA member soon!! |
| --- | --- | --- |
Next WBA Monthly Meeting October 15th. Don't Miss It!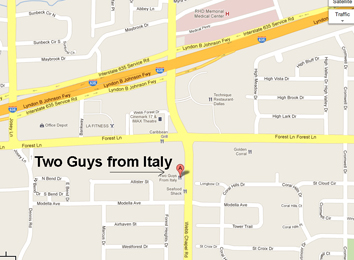 Our next meeting will be Thursday, October 15th, 2015 at 7 p.m. at Two Guys from Italy at 11637 Webb Chapel Road, just south of Forest Road. WBA Treasurer and benefactor John Parish will be giving away one of his many boating and woodworking related books as a door prize.
Our meetings are a great opportunity to socialize with fellow WBA members and to talk shop on questions on everything from paint and varnish to carburetor kits. The October meeting will feature a presentation by antique and classic outboard motor collector and restorer Tom Hage.
As always, we'll have generous helpings of fellowship and Italian food.
Join us for a light meal and moderate libation at 5:30 p.m. at Two Guys from Italy prior to the meeting. We encourage you to join us for dinner, so we'll always have the required minimum number of diners to avoid a room charge.
Shop Talk and Musings
We were pleased with the turnout at White Rock Lake on September 19, and want to salute all WBA members who make the time and put forth the effort to share their boats with the public in our events. One of our club's purposes is "To educate and inform the public about the historic significance of our antique and classic boats." Through events like White Rock, The Ride 'n Show this weekend, and the upcoming Hill Country/Lake LBJ show, hundreds of people learn about classic boat history, and many re-live precious memories of their early years in boating. We know exactly what it takes to get your boat ready, and to make the trip to a show, so on behalf of the entire club, thanks to you who make our shows happen.

And finally, please take a look in the shed or garage for leftover parts or other salable items you can donate to the club. Bring them to any WBA meeting, or contact David Kanally at david@historywithheart.com for pickup.