Next Meeting October 17th. Don't miss it!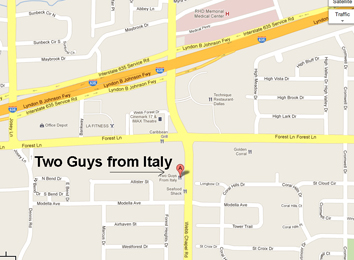 Join us on Thursday, October 17th at 7 p.m. at Two Guys from Italy at 11637 Webb Chapel Road, just south of Forest Road. WBA Treasurer and benefactor John Parish will be giving away one of his many boating and woodworking related books as a door prize.
Guy McCollum has prepared some great material on Century boats, which are of interest to all, and of specific interest to the growing number of Century owners in the WBA. We look forward to hearing what Guy has in store for us! Join us for a light meal and moderate libation at 5:30 p.m. at Two Guys from Italy prior to the meeting. We encourage you to join us for dinner, so we'll always have the required minimum number of diners to avoid a room charge.
Shop Talk and Musings
Everybody was praying for rain so there would be enough water in Lake Ray Hubbard for the Ride 'n Show. So it rained four inches during the Ride 'n Show. We'll have to learn to word our prayers more carefully. Seriously, the Ride 'n Show was a fabulous event, with a better turnout than ever to the kickoff party, and a very nice showing of a variety of boats both on land and in the water. Rockwall wants to invite us back for next year. We'll have some debriefing sessions soon, while this year's event is still fresh in our memories, to work out the few bugs that we did run into. Please send any input you may have to David Kanally. October is a very busy month, too, with events coming up on the 12th and the 18th-20th. So pick one or the other, or both, to attend and find out why the WBA continues to grow in numbers and energy!
And, finally: Please take a look in the shed or garage for the leftover parts or other saleable items you can donate to the club. Bring them to any WBA meeting, or contact David Kanally at david@historywithheart.com for pickup.