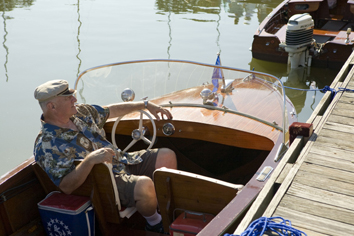 Above: Charlie Varner came all the way in from Grandview, TX with his uber-rare Willis outboard.
Corinthian Sailing Club Commodore Dudley Baine kicked off the event, introducing Dallas City Councilman Sheffie Kadane, who read the Classic Wooden Boat Day mayoral proclamation. Bilge Pump's own David Kanally spoke on behalf of the WBA, followed by BJ Ellis from For the Love of the Lake.
Nine boats were displayed, including three Century Resorters brought by Phil Wolff, Les Burton and Bob and Peggy Cutler; Vin McMaster's and Ray Harvey's Chris-Crafts, Mike Gomes' Gar Wood, Tom Weber's Yellow Jacket, Charlie Varner's Willis outboard and David Kanally's Cowell.
Discussions are underway to make White Rock an annual event. Photos by Richard Haug.
Below: (l-r) Councilman Kadane, David Kanally, BJ Ellis, Corinthian Sailing Club's Phil Morris, and FTLOTL President Susan Hello.