Fisher Chris Gets Flipped with Teamwork!
| Jim Donovan pulls the trailer out from under the raised and inverted hull of Dennis Fisher's Chris-Craft, while Dennis and his gathered team spread the uprights of the gantry to allow the trailer's fenders to clear. | | Once the team flipped the boat into its upright position, the trailer was rolled back under it and it was returned to its storage stall at the shop. Now the guys can focus on sanding and finishing the deck and hull sides. |
| --- | --- | --- |
Next WBA Monthly Meeting September 19, 2019, Mark Your Calendar!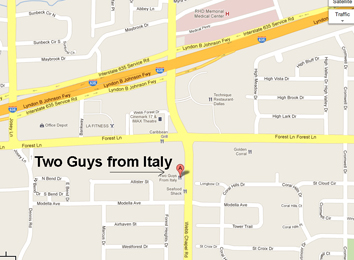 Our next meeting will be Thursday, September 19th, 2019 at 7 p.m. at Two Guys from Italy at 11637 Webb Chapel Road, just south of Forest Lane. We'll be continuing our door prize tradition, giving out a classic boating book from collections donated by Pat Baldwin to a lucky winner.
Our meetings are a great opportunity to socialize with fellow WBA members and to talk shop on questions on everything from paint and varnish to carburetor kits. We'll be swapping stories of our various boating and project adventures. Plus, we'll have a presentation of general interest to antique and classic boating enthusiasts. And, of course, we'll have generous helpings of fellowship and Italian food.
Join us for a light meal and moderate libation at 5:30 p.m. at Two Guys from Italy prior to the meeting. We encourage you to join us for dinner, so we'll always have the required minimum number of diners to avoid a room charge.
Shop Talk and Musings:
Jacob Deegan, 1951-2019: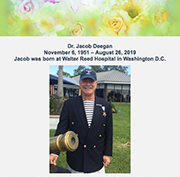 It is with great sadness that we inform you of the passing of one of our long-term members and major benefactors, Dr. Jacob Deegan of League City, TX. At left is the announcement from the Lakewood Yacht Club, which tells a small part of Jacob's remarkable story. You can click on it to read it. We will miss him, and will admire his courage in battling cancer.  We last saw Jacob at the Lake Tyler Rendezvous.  He treasured his time with fellow boaters, and fought hard to be with us, making memories.  Rest in peace, dear Jacob.
And finally, please take a look in the shed or garage for leftover parts or other salable items you can donate to the Club. Bring them to any WBA meeting, or contact David Kanally at david@historywithheart.com for pickup.