Harvey Presents Italy Trip, Riva Factory Visit at August Meeting
| Special thanks to Ray Harvey for sharing his family's recent trip to Italy, including a visit to the Riva factory, with the WBA members in attendance at the August 16th meeting. The Harveys traveled to Lake Iseo and toured the area on electric bikes and in boats. | | They got an insider's visit to rarely seen sections of the Riva plant, including Carlo Riva's private office, which is now used for VIP hosting and special events. Ray's presentation gave all of us a VIP view of this legendary Italian boat builder's craft. Thanks, Ray! |
| --- | --- | --- |
New Lucas Project: Hafer Craft Donated!
(Above) Phil Wolff and Robin McGeorge move the 1948, 15' Hafer Craft donated by WBA Treasurer Scott Reichardt into the Lucas Shop on Tuesday, August 21.

(Above) Jim and Robin take a breather after using the gantry and chain haul to remove the Hafer's Gray 475, 4-cylinder, 75 HP engine from the boat on Saturday, 8/25.

(Above) Jim Donovan fabricates an engine stand for the Gray Marine four banger. Here, he cuts a notch for the carburetor.

(Above) On Saturday, August 25, (with help from Scott Myers, Rex Hoecker, Mark Wilson), Robin McGeorge, Glenn Nerwin and Jim Donovan pull the trailer out on Aug. 25.

(Above) Robin McGeorge power washes the boat's bilge, after he and David Kanally removed the floorboards on Wednesday, 8/29.

(Above) The engine stand can be moved around the shop, thanks to casters donated by Scott Myers. The engine fires fine, and will be bench tested on the stand.
Next WBA Monthly Meeting September 20th, 2018. Don't Miss It!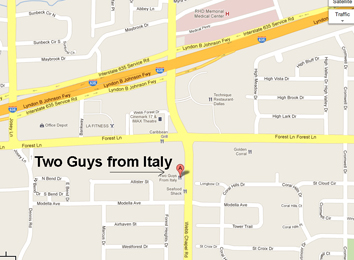 Our next meeting will be Thursday, August 16th, 2018 at 7 p.m. at Two Guys from Italy at 11637 Webb Chapel Road, just south of Forest Lane. We'll be continuing our door prize tradition, giving out a classic boating book from collections donated by Pat Baldwin and Troy Marshall to a lucky winner.
Our meetings are a great opportunity to socialize with fellow WBA members and to talk shop on questions on everything from paint and varnish to carburetor kits. We'll be swapping stories of our various boating and project adventures. We'll have a chance to hear from the folks who went to Grand Lake, and to see a presentation of interest to classic boating enthusiasts. And, of course, we'll have generous helpings of fellowship and Italian food.
Join us for a light meal and moderate libation at 5:30 p.m. at Two Guys from Italy prior to the meeting. We encourage you to join us for dinner, so we'll always have the required minimum number of diners to avoid a room charge.
Shop Talk and Musings
As you may remember, the WBA and in particular the work of Dennis Cheatham and his dad, Richard, were featured on a Texas Country Reporter TV episode last February. Video here. That appearance gave the club the opportunity to display boats and provide a boat to play the role of the S.S. Minnow for the appearance of Dawn Wells (Mary Ann of Gilligan's Island) at the Texas Country Reporter Festival in Waxahachie last October. Video here. This year, the Festival invited the club to have a 10x10 booth space (no boats) at the event. After consideration of the costs of tent rental and potential benefit of such a booth, your officers have decided not to participate in the Festival. We do acknowledge, however, the wonderful exposure the the TCR episode and boat display last year provided for our club, and are grateful to Bob and Kelli Phillips for the opportunity.
And finally, please take a look in the shed or garage for leftover parts or other salable items you can donate to the Club. Bring them to any WBA meeting, or contact David Kanally at david@historywithheart.com for pickup.