Donated Motor and Canoe Sell, Help Keep Shop Afloat!
| Ricky Starr (l) of Marshall, TX drove all the way to Lucas on August 27 with his sister and brother-in-law to pick up the 1976 Chrysler 55 hp motor donated to the Lucas Shop Fund by WBA stalwart Bob Adair (r). The motor is almost identical to the one that Ricky's late father had on their Gator fishing boat. Ricky's family is restoring the Gator in his dad's memory. Sometimes things just work out. | | The 17' fiberglass-on-cedar strip canoe donated to the Lucas Shop Fund by Steve Phillips of Lake Texoma in memory of Tom Ferguson has been purchased by WBA member Scott Reichardt of Horseshoe Bay, TX. Scott is coming to the Ride 'n Show, and he'll have the canoe on display there, so you can have a look at it before he takes it home. Thanks, Scott! |
| --- | --- | --- |
Don Ayers Talks Rivas at August Meeting!
| Don Ayers, President of the Chris-Craft Antique Boat Club and noted Riva researcher, took time from his busy schedule to share his Riva knowledge with the WBA at its regular monthly meeting on August 21, 2014. Connie, Don's wife, accompanied him to the meeting. | | Don brought along an historic film showing the production steps in the building of Riva boats, most notably, the molded ply fabrication process responsible for the rugged and beautiful Riva hulls. Thanks, Don, for your many insights into the history of this breathtaking marque! |
| --- | --- | --- |
Four Chris-Crafts Survive Thanks to WBA Restorers!
(Above) Robin McGeorge and Troy Marshall work on making cardboard patterns for the seat bottoms in their 1936 19'Chris-Craft Deluxe Runabout. Bungs in the foredeck have yet to be sanded, making the boat look like a hedgehog with a brushcut.

(Below). Steve Griffitts reports that the aft decking and engine compartment cover have now been stripped and rough sanded. Fortunately, all the wood Steve's uncovered so far on his 1948 17' Chris Deluxe Runabout has been sound. By the time you read this, Steve and Phil Wolff will be collaborating to pull the engine, preparing the boat for flipping so Steve can begin bottom work.

(Above) Marc Hill's got some bling on that thing! The '68 Chris-Craft Grand Prix is really getting close to completion with hardware installation. Mark plans to have the boat on land display at the Ride 'n Show!

Below, Mark Wilson takes measurements for the installation of the starboard splash rail on his '68 Grand Prix. Mark can benefit from the head start Marc Hill has on him to get measurements like this. All four of these Chris Crafts were in a bad way when their owners and restorers got ahold of them, and now, they are well on their way to a new life of fun on the water. The Chris-Craft legacy at the WBA is in good hands!
Next Regular Meeting September 18, 2014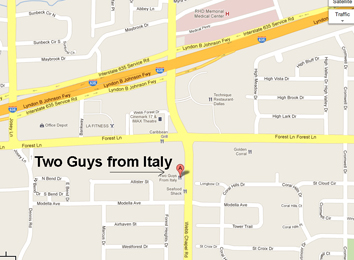 Don't miss our next regular monthly meeting on Thursday, September 18, 2014 at 7 p.m. at Two Guys from Italy at 11637 Webb Chapel Road, just south of Forest Road. WBA Treasurer and benefactor John Parish will be giving away one of his many boating and woodworking related books as a door prize.
An informative and inspiratonal presentation is being planned for your edification. And, as always, we'll have generous helpings of fellowship and Italian food. The meeting will be better if you are there, of course.
Join us for a light meal and moderate libation at 5:30 p.m. at Two Guys from Italy prior to the meeting. We encourage you to join us for dinner, so we'll always have the required minimum number of diners to avoid a room charge.
Shop Talk and Musings
There's so much going on these days, that there's not much more to say here, except, BE THERE! These are the two most active months of the year for the WBA, and there are events throughout the area for you to attend and enjoy. Our friends from Houston and Austin routinely participate in our Ride 'n Show, so it's the least we in the Dallas area can do to attend the Lake LBJ event in October!
The Lucas Shop has bays available for short or long-term projects, so let us know if you'd like to bring your boat out there to get that needed work done! Our shop thrives when there are major projects going on, so it's now time for yours!
And, finally: Please take a look in the shed or garage for leftover parts or other salable items you can donate to the club. Bring them to any WBA meeting, or contact David Kanally at david@historywithheart.com for pickup.