| | |
| --- | --- |
| Including an update from our sawdust makers! | September 2008 |
Ride 'n Show Huge Hit on Lake Lewisville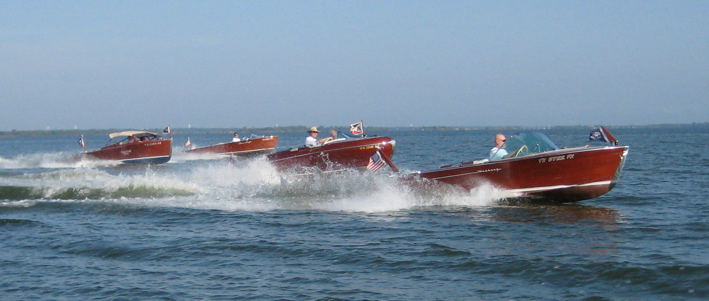 Just when we thought things couldn't get any better, we had the Sunday Run of a lifetime in the morning light of Lake Lewisville August 24. (l-r) Jim Frechette, Troy Marshall, Dave Parker and Les Burton pilot their gleaming mahogany craft across the lake.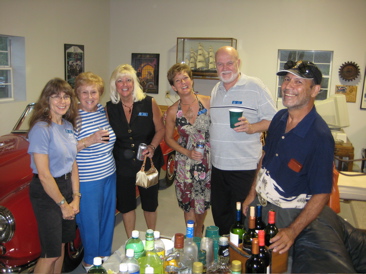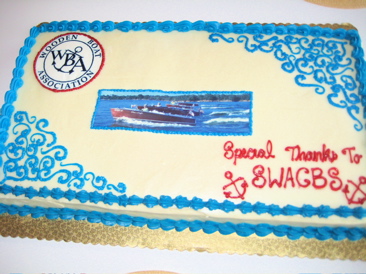 A group of the usual suspects enjoys the Friday Night Barbecue in Kroemers' Garage Mahal (l), and a fancy cake welcomes all to Van Guilders' on Saturday (r).
Fifteen boats and thirty-five people made the scene at this year's Ride 'n Show, held on August 22-24 in and around Lake Lewisville. We were happy to see folks from as far away as Houston, Austin, New Braunfels and Oklahoma join their North Texas friends for a great weekend of boating and fellowship. The event went off without a hitch, thanks to great planning by party hosts Sarah and Al Kroemer and Mildred and Bob Van Guilder. Phil Wolff did his usual masterful job of launch support, with help from SWACBS President Robert Black and the ever enthusiastic Staci Fielder. Bob Van Guilder and Mark Webster piloted camera boats. David Kanally and Christopher Wolff kept the cameras rolling. Martha Wolf was on hand covering the event for the Chris-Craft Club's Brass Bell publication. And what a wide variety of boats: Dart, Chris-Craft, Century, Riva, Cowell, Shepherd...a cross-section from the glory days of wooden boating. Thanks to all for making the event a success!
Hill Country Boat Show October 3-5
Let's have a good showing at the Hill Country Boat Show to be held October 3-5 at the Lake LBJ Yacht Club. The Texas Hill Country provides the backdrop to this wonderful event which includes a Friday river cruise and poker run, a dinner party at the breathtaking lakeside Reichardt residence, the Saturday Show and Awards Banquet. More information, a brochure and registration form are available at http://www.southwest-acbs.org/.. The SW ACBS is a big supporter of the WBA, so let's return the favor by attending this important event. Hill Country Boat Show lodgings are still available at Daddy O's. They have reasonable cabins, covered boat stalls and are a short boat ride to the event. Tell them you are an addition to the Doerflinger group:
http://www.highlandlakes.com/daddyos/index.htm
WBA Members Mark National Marina Day at Joe Pool
A number of WBA members attended the National Marina Day event at Joe Pool on August 9. That morning, the group received the unfortunate news that the Lynn Creek Marina's owner was hospitalized, and the event had been delayed. But a half-dozen or so members were already en route when the word went out, so they decided to have a short day on the water just the same. Phil Wolff, Richard Haug, David Kanally, Bob Cutler, Les Burton, Mark Kelsey and Jim Wolfe were all there, and had a chance to make a few runs and have a bite to eat. Thanks to all for your participation!
Kanally Shares Three-Stop Summer Trip at August Meeting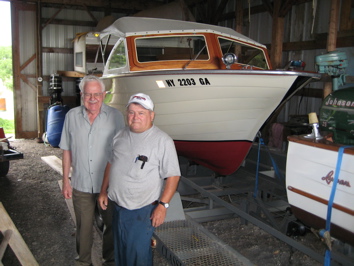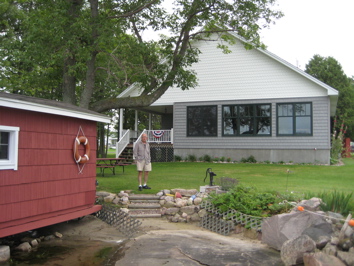 Dek Kanally and Bob Dancause inspect Bob's 17' Cowell in Gorham, NY, and Seb Borrello welcomes the Kanally boys to his cottage on the St. Lawrence.
WBA members attending the August 21 meeting saw video of the four-day trip to upstate New York taken by David and his dad Dek Kanally. The pair made stops at the summer home of WBA members Pat and Bill Baldwin at Bemus Point on Chautauqua Lake, then headed northeast to Gorham, NY in the Finger Lakes region to call on Bob Dancause, owner and restorer of the last Cowell boat ever made. (Kanally's boat is also a Cowell), finishing the trip with a visit to the Clayton Antique Boat Show and to the summer home of WBA members Bonnie and Seb Borrello in Fisher's Landing along the St. Lawerence River.
Shop Updates from the "Hands-On" Guys
From the WBA shop in Lucas, Troy Marshall writes, "We were out August 30th and the bottom is now glued on with 5200 and is almost faired in." The 22' Hacker Triple is looking more like the factory original every day. By the time the project is finished, Troy and mentor Robin McGeorge will have replaced virtually every piece of wood in the boat. Richard Haug is also making headway on his Shepherd, and we should have update photos from Lucas for the October Bilge Pump.
From Seb Borrello's shop in Fisher's Landing, NY, we received the following news, "Here are two pics of the 1954 Lyman 15'. I am now redoing the flooring, steering dash and starting to restore my 1958 35HP Evinrude Lark."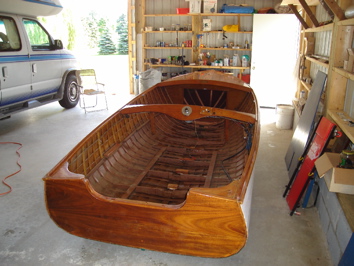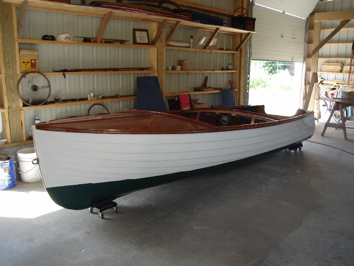 Seb's Lyman sports a new transom following some tedious fitting work by Seb, and now attention shifts to the flooring, dash and motor. Seb uses the genset from his RV to power the tools in his unwired shop.
News from Jim Wolfe: September Meeting Has a Hemi In It!
One of the best engine guys in the Club, Jim Wolfe, is rebuilding the Hemi for his Coronado, and he's going to show everyone in attendance at the September 18th meeting just how it's done. He'll have some pictures he's taken along the way, and plenty of expertise to share, so don't miss this great opportunity.
As an added feature, the video shot at this year's Ride 'n Show will be shown, so come join us at the Midway Point (meeting start time is 7 p.m.). Join us for a light meal and moderate libation prior to the meeting. We'll gather at Midway Point at 5:30 on September 18. See you there!
Please take a look in the shed or garage for the leftover parts or other saleable items you can donate to the club. Bring them to any WBA meeting, or contact David Kanally at david@historywithheart.com for pickup.