VP Griffitts Shares Boat Show Experiences at July Meeting
| Sunnyland ACBS Chapter photo | | Steve Griffitts and Patrice Mozelewski have made the rounds of some fine boat shows over the past year or so, and the WBA was treated to their photos at the July 16th montly meeting. Steve put together a presentation of some beautiful boats from 3 boat shows that he's attended this year. The Sunnyland Boat Festival on Lake Dora, FL, Keels & Wheels, Seabrook, TX & the boat show in Algonac, MI.  He thought the Sunnyland show was top notch with the best turn out of boats & quality.  Check out Steve's new Facebook blog, Double Jack Texas Speedboats. |
| --- | --- | --- |
What's Cookin' in Lucas and Griffitts' Garage?
(Above) Chuck Barber is continuing to remove bad plywood from the bottom of his '58 Borum plywood-on-frame outboard. We've all been there, Chuck. It's kind of like cleaning your ears with a Q-tip; ya gotta figure out exactly where to stop!

(Above) Robin McGeorge's Chris-Craft Cavalier now has a gas tank but no rebuilt engine yet. As Robin told us at the last meeting, if you ever take your engine to a machinist for work, never tell them you're not in a hurry.

(Above) The bow of Chuck's Borum is in great shape, as a complete stripping and inspection reveals. The aft plywood pieces will be much easier to bend and fit than these bow sections would be, so Chuck's got that goin' for him now. Break out the CPES and stock up on some 5200.

(Above) Meanwhile in North Richland Hills, Steve Griffitts is creating templates for replacement planks on his recently acquired Speedliner outboard. He's taking his time on this one...it'll be a real showpiece when he's finished!
Next WBA Monthly Meeting August 20th. Don't Miss It!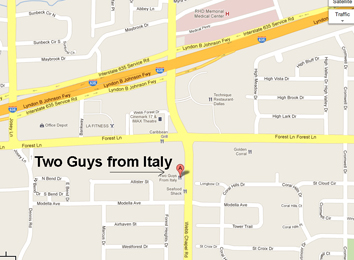 Our next meeting will be Thursday, August 20th, 2015 at 7 p.m. at Two Guys from Italy at 11637 Webb Chapel Road, just south of Forest Road. WBA Treasurer and benefactor John Parish will be giving away one of his many boating and woodworking related books as a door prize.
David Kanally will present, "Andrew Jackson Higgins and His Boats." Higgins was the scrappy New Orleans entrepreneur who built a boat-building empire in WWII, creating a fleet of landing craft and other wartime vessels that helped win WWII. Higgins went on to build pleasure craft after the war, some of which make regular appearances at WBA events!
As always, we'll have generous helpings of fellowship and Italian food.
Join us for a light meal and moderate libation at 5:30 p.m. at Two Guys from Italy prior to the meeting. We encourage you to join us for dinner, so we'll always have the required minimum number of diners to avoid a room charge.
Shop Talk and Musings
There is a small shop bay available in the 3-bay complex in Lucas traditionally occupied by Robin McGeorge and Troy Marshall. The right-hand bay in this space is still available, and being offered to the public for rent. Let's keep it in the club! Let David Kanally know if you're interested.
Also, if you really want to be up-to-the-minute on the goings-on of the WBA, you need to check out our Facebook page regularly. It's a place for members to post their restorations, outings and other information in real time, giving you the most current view of the many activities of our club. Check it out here.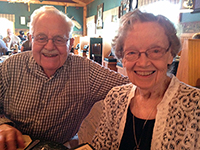 In case you didn't get the earlier email notices, this issue of Bilge Pump is a good 10 days late due to the travel schedule of a number of the muckety-mucks in the editorial office. These guys seem to think the world has to stop just because they want some time off. It would be nice if, during the process of taking our country back, we could get a little work ethic going in the front office here. Apparently the travel was worthwhile though. Many WBA members will remember meeting Dek Kanally, pictured here with Ann, his bride of 66 years. Dek is an avid Bilge Pump reader and long-time owner and restorer of the family Cowell boat. Both send a hearty "ahoy" to the WBA!

And finally, please take a look in the shed or garage for leftover parts or other salable items you can donate to the club. Bring them to any WBA meeting, or contact David Kanally at david@historywithheart.com for pickup.