Next Regular Meeting August 21, 2014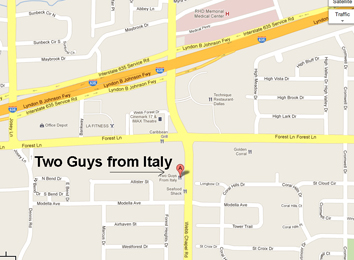 Don't miss our next regular monthly meeting on Thursday, August 21, 2014 at 7 p.m. at Two Guys from Italy at 11637 Webb Chapel Road, just south of Forest Road. WBA Treasurer and benefactor John Parish will be giving away one of his many boating and woodworking related books as a door prize.
Don Ayers, President and Board member of the Chris-Craft Antique Boat Club and noted Riva historian, will be presenting a discussion on both Chris-Craft and Riva boats. Don's a busy guy, and we're pleased he's planning to be with us for this presentation! As always, we'll have generous helpings of fellowship and Italian food. The meeting will be better if you are there, of course.
Join us for a light meal and moderate libation at 5:30 p.m. at Two Guys from Italy prior to the meeting. We encourage you to join us for dinner, so we'll always have the required minimum number of diners to avoid a room charge.
Shop Talk and Musings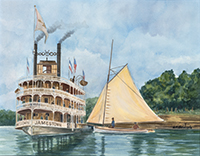 Every now and then, it's time to say thank you to people who don't get thanked enough. That's the case this month for a couple of our club's most loyal and active members. First, Lisa Daniels has been painting beautiful nautical and automotive art for many years. She markets her art through boat and car clubs and in person at various events around the country. Recently, Lisa donated to the Lawson Center a beautiful painting of the Jamestown, an historic steam-powered sternwheeler that once plied the waters of Chautauqua Lake in New York state. This painting is now in a drawing to raise funds for the center. Raffle tickets are just $10 apiece or $25 for three. Please consider supporting the Lawson Center with a great chance to own Lisa's fine artwork! Contact Gay Perry for tickets. Thank you Lisa!!!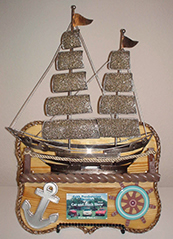 The other person who deserves a tip of the hat this month is good old Les Burton, who makes an extra effort to attend every event and get his beautiful boat out at every opportunity on land and in the water. Les has some buddies up in Denton who threw a benefit car and boat show on July 19th for the Faith Presbyterian Hospice. Les had his boat there, and helped get a few other members to add their boats to the display. The show awarded Les a trophy for his boat. To this award, we add our thanks to Les!
And, finally: Please take a look in the shed or garage for leftover parts or other salable items you can donate to the club. Bring them to any WBA meeting, or contact David Kanally at david@historywithheart.com for pickup.