Next Meeting August 15th. Don't miss it!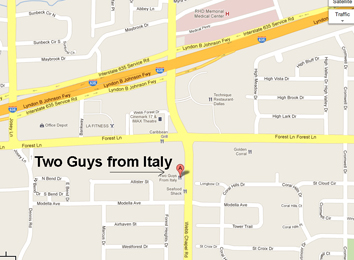 Join us on Thursday, August 15th at 7 p.m. at Two Guys from Italy at 11637 Webb Chapel Road, just south of Forest Road. WBA Treasurer and benefactor John Parish will be giving away one of his many boating and woodworking related books as a door prize.
Jim Wolfe, engine man extraordinaire, is preparing a presentation on the ins and outs of engine rebuilding. We should probably pay attention. Jim has brought many engines back from the dead, including the Hemi that will soon be powering his nearly restored Coronado. Join us for a light meal and moderate libation at 5:30 p.m. at Two Guys from Italy prior to the meeting. We encourage you to join us for dinner, so we'll always have the required minimum number of diners to avoid a room charge.
Shop Talk and Musings
You may notice that this issue of the Bilge Pump has arrived a little early. As hinted in my email accompanying the July minutes sent a few days ago, we had quite a dust-up in the newsroom over the cavalier way in which our editorial staff seems to schedule road trips and vacations lately, right around press time. The guys were absolutely intransigent on the issue, so I gave them the choice of getting the issue out early or cancelling their vacation. So there you go, labor negotiations at their finest. I will admit that the "my way or the highway" management style doesn't always work, but this time it did. I think the staff understand the rules, so they choose their battles pretty carefully. Burning the midnight oil putting out a newsletter about your favorite hobby...nice work if you can get it!
Word has it that Bob Adair and Lew White are having a windshield custom made for their custom Yellow Jacket. The deck is soon to be stained and varnished. They also found a good quality upholsterer in McKinney who did the Yellow Jacket seats in a pretty tight time frame, so give them a holler if you need a referral.
And, finally:
Please take a look in the shed or garage for the leftover parts or other saleable items you can donate to the club. Bring them to any WBA meeting, or contact David Kanally at david@historywithheart.com for pickup.