Next Monthly Meeting August 16, 2012. Don't miss it!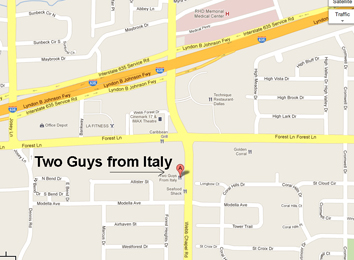 Join us on Thursday, August 16th at 7 p.m. at Two Guys from Italy at 11637 Webb Chapel Road, just south of Forest Road. DOOR PRIZE ALERT! WBA Treasurer and benefactor John Parish has begun a monthly giveaway of one of his many boating and woodworking related books as a door prize. You must be present to win. The August meeting will feature "How to Restore Your Wooden Runabout, Vol. II" by Don Danenberg. Our program will be given by Mark Webster. Mark will help us understand the story behind the recent running aground of the Italian cruise ship Costa Concordia. Skippers who like to cruise close to shore are particularly advised to attend!
Join us for a light meal and moderate libation at 5:30 p.m. at Two Guys from Italy prior to the meeting. We encourage you to join us for dinner, so we'll always have the required minimum number of diners to avoid a room charge.
Shop Talk and Musings: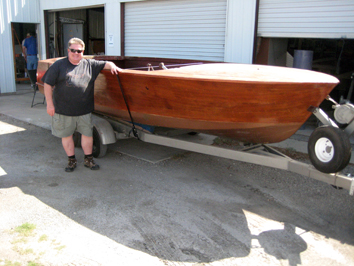 Welcome Aboard, Steve Griffitts! Steve hails from Keller and last Saturday, drove out to the shop towing his recently acquired project, a '59 17'Chris Craft Ski Boat. Steve was happy to have Robin and others in attendance crawl over and under his boat to show that the bottom was in pretty good shape, as are the side planks. The decking is all there, but is pretty chewed up and will need to be replaced. Steve has all the hardware, the original dash, windshield and a couple choices of engines at home.
As of press time, Steve was headed to the car wash to clean out his boat. He had removed all the floor boards and ceiling boards, and was ready to get to work. He'll be receiving advice from Robin and others who have been in these deep waters before, so we're sure Steve will have a great outcome. Welcome!!
Two WBA Members published in latest Rudder Magazine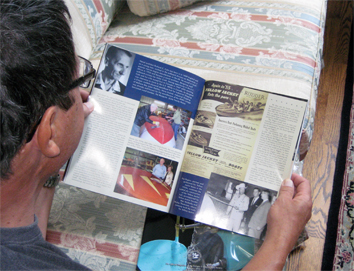 Two WBA members have articles in the current summer issue of Rudder Magazine, the official publication of the Antique and Classic Boat Society. Jim Frechette has a nice write-up and photo of his Chris-Craft red-and-white, "Old Paint", and David Kanally has a 5-page article on the WBA's Yellow Jacket initiative and the restoration of Chuck Pool's Yellow Jacket in the magazine. We'd like to get souvenir copies of the magazine to the families of those mentioned in the Yellow Jacket story. If you are finished with your copy of Rudder and are willing to part with it, please mail it to David Kanally, 1036 Creek Crossing, Coppell, TX 75019 or bring it with you to the August meeting.
And, finally:
Please take a look in the shed or garage for the leftover parts or other saleable items you can donate to the club. Bring them to any WBA meeting, or contact David Kanally at david@historywithheart.com for pickup.