Next Meeting August 19th--Don't Miss It!
Join us at the Midway Point on Thursday, August 19th for the next monthly meeting of the WBA. We'll be finalizing details for the Ride 'n Show, and working out the details of our equally important White Rock Lake event slated for September 11. Come out and see some people who look surprisingly good for their ages. We've been seeing some faces from the past as well as new members! The meeting will begin at 7 p.m. on Thursday, August 19th at the Midway Point at LBJ and Midway Road.
Join us for a light meal and moderate libation at 5:30 p.m. at the Midway Point prior to the meeting.
Shop Talk and Musings: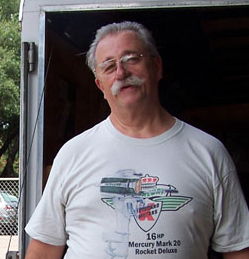 John Graf is an extraordinary guy. We first met him at Keels & Wheels in May, and WBA past president Bob Van Guilder thought it would be great if John could bring his exquisite display of vintage Mercury outboards to the Dallas Summer Boat Show.
WBA member Chip Rathbun gave him a call, and John agreed to make the long trip up from Houston with his treasures to share with the attendees at the boat show.
He arrived right on cue on Friday afternoon and began the almost ceremonial unpacking and setup of the display. Most of the motors are mounted on long stands on either side of John's 20' car-hauler trailer, making for nice walk-through display. Motors are arranged in ascending horsepower order. A couple motors are also on free-standing supports, which John wrestles out of the trailer onto the ground near the entryway of the display. All motors are covered lovingly with quilted matress covers for transport. Each outboard has been brought back to original (or better) condition down to the smallest detail. John spent countless hours during the past year just restoring gas caps, for cryin' out loud! We trust the people who visited John's display during the Summer Boat Show appreciate John's investment of time, money and passion, all willingly spent to bring his hobby to the public. Thanks, John!! (Chip Rathbun photo)
And, finally:
Please take a look in the shed or garage for the leftover parts or other saleable items you can donate to the club. Bring them to any WBA meeting, or contact Phil Wolff at myoldboats@gmail.com for pickup.