Donated Lyman Passes Sea Trial, Fisher Chris Gets Copper Bronze!
(Above) WBA member Steve Seale of Jasper was our test pilot for the sea trial of the donated Lyman. Following a prop change (see Shop Talk and Musings below), the boat ran great!

(Below) Jim Donovan tips the final coat of copper bronze bottom paint on Dennis Fisher's Chris Craft currently under restoration at the Lucas Shop

(Above) We've included this picture since it's one of the few we have of Steve without a big smile on his face. The man takes his sea trials seriously. Having the steering amidships provides for perfect planing of the boat.

(Below) Once the copper bronze paint set up a bit, Jim removes the masking. Now that the paint is completely cured, it's time to re-right the boat for deck work.
Next WBA Monthly Meeting July 18, 2019, Mark Your Calendar!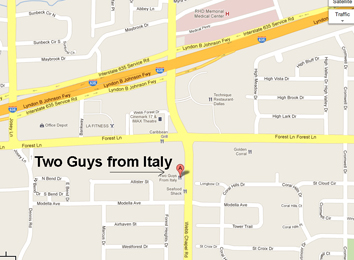 Our next meeting will be Thursday, July 18th, 2019 at 7 p.m. at Two Guys from Italy at 11637 Webb Chapel Road, just south of Forest Lane. We'll be continuing our door prize tradition, giving out a classic boating book from collections donated by Pat Baldwin to a lucky winner.
Our meetings are a great opportunity to socialize with fellow WBA members and to talk shop on questions on everything from paint and varnish to carburetor kits. We'll be swapping stories of our various boating and project adventures. Plus, we'll have a presentation of general interest to antique and classic boating enthusiasts. And, of course, we'll have generous helpings of fellowship and Italian food.
Join us for a light meal and moderate libation at 5:30 p.m. at Two Guys from Italy prior to the meeting. We encourage you to join us for dinner, so we'll always have the required minimum number of diners to avoid a room charge.
Shop Talk and Musings: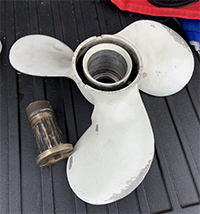 Here we see the two metal parts of a vintage Evinrude outboard prop: on the left, a bronze ferrule called the "bushing sleeve" and on the right, the cast aluminum prop itself. These two are normally joined by a rubber "torsion hub", which in this case had deteriorated and failed. The rubber hub surrounds the bushing sleeve and is pressed into the prop body. The common terminology is that this prop was "spun", and couldn't get the donated Lyman above about 5 mph during the initial sea trial at Lake Tyler on June 15. We were stuck, frankly, and we felt that our 2-hour drive to the lake to get good footage of the Lyman at speed were for naught. Enter Lawrence Llore, local car and boat guy who got on the horn with his friends and family to see if anybody could come up with a solution. Sure enough, Lawrence's son had a spare Evinrude prop in his john boat, so he very generously invited me to ride along with him and his wife, Janet, to go get the prop as a loaner. We drove about an hour round-trip, and met a couple of Lawrence and Janet's grandkids in the process. The loaner prop worked great, and resulted in the footage you can watch here. What a kind gesture by Lawrence and Janet. We will remember their kindness. By the way, we took the parts pictured at left to James Propeller, and we'll have a new hub pressed in by the time you're reading this.
And finally, please take a look in the shed or garage for leftover parts or other salable items you can donate to the Club. Bring them to any WBA meeting, or contact David Kanally at david@historywithheart.com for pickup.