Next Monthly Meeting July 19, 2012. Don't miss it!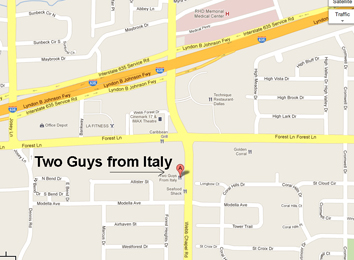 Join us on Thursday, July 19th at 7 p.m. at Two Guys from Italy at 11637 Webb Chapel Road, just south of Forest Road. DOOR PRIZE ALERT! WBA Treasurer and benefactor John Parish has begun a monthly giveaway of one of his many boating and woodworking related books as a door prize. You must be present to win. At the June meeting, Jim Donovan took home How to Restore Your Wooden Runabout by Don Danenberg. A $150 value!! Our program will be given by David Kanally, WBA president. David will be bringing back the latest from the Lawson History Center at the summer lair of Bill Baldwin, Chautauqua Lake, NY. He'll also have photos of the restoration of his boat's sister ship, a 1956 Cowell King lapstrake outboard, which will be on display at the Lawson Center.
Join us for a light meal and moderate libation at 5:30 p.m. at Two Guys from Italy prior to the meeting. We encourage you to join us for dinner, so we'll always have the required minimum number of diners to avoid a room charge.
Shop Talk and Musings: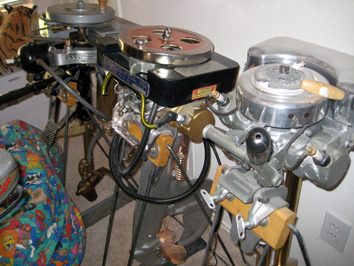 I had the good fortune of being invited into the inner sanctum of Chip Rathbun's outboard motor collection a couple weeks back when I took Chuck Pool's old Scott Attwater motor over to Chip's place in Flower Mound. Wow. There's a whole 'nother world out there in antique boating, guys. These little motors, ranging in horsepower from .9 to 10 or so are like mechanical jewels. Made of polished aluminum, buffed out brass and carefully painted steel, these motors are from the very earliest days of recreational boating. Chip is a real artist when it comes to restoring these motors. They can be picked up with one hand and several can be stored in a spare room. Chip is active in the Texas Chapter of the Antique Outboard Motor Club and serves as its president. He regularly walks away with the best antique outboard boat prize at Keels & Wheels, and now has his eye set on a national prize at Table Rock. Don't be surprized if he wins. Just sayin'.
And, finally:
Please take a look in the shed or garage for the leftover parts or other saleable items you can donate to the club. Bring them to any WBA meeting, or contact David Kanally at david@historywithheart.com for pickup.