Next Meeting July 15th--Don't Miss It!
Join us at the Midway Point on Thursday, July15th for the next monthly meeting of the WBA. We'll be finalizing details for the Dallas Summer Boat Show and discussing the upcoming Ride 'n Show. Come out and see some people who look surprisingly good for their ages. We've been seeing some faces from the past as well as new members! The meeting will begin at 7 p.m. on Thursday, July 15th at the Midway Point at LBJ and Midway Road.
Join us for a light meal and moderate libation at 5:30 p.m. at the Midway Point prior to the meeting.
Shop Talk and Musings: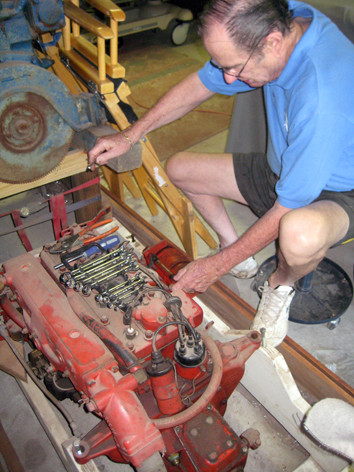 Robin McGeorge can't seem to keep his hands to himself. With his boat projects complete for the moment, here he is at the Lucas shop readying a donated flathead marine engine for the upcoming Dockside Sale. The little four-banger has a broken generator bracket, and Robin won't rest until it's fixed.
This engine, and all the other articles we're going to be offering at the Boat Show are stored, at no cost to the club, in one of Robin's storage units at the Shop.
While I was there visiting with him and holding a wrench for him, he must have answered half a dozen questions from the less-experienced restorers busy working on their boats.
He also made time for a friendly visit. For those of us who frequent the shop, Robin's presence and help are a given.
I just want Robin to know that he is appreciated by our members. We thank you, Robin...your selfless dedication to our club is a sustaining force!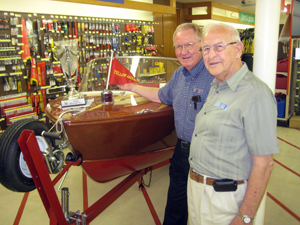 Also, please take a look from time to time at the Yellow Jacket section of our website. That's where we store and share images of our efforts to preserve the Yellow Jacket Marque.
For example, you can go there now and see video of some Yellow Jacket friends gathering at Chuck Pool's store in Denison to remember Yellow Jacket Boat Company. Lew White, Bob Adair and I were on hand. It was Bob and Lew's first chance to get their hands on the Best of Class Keel's & Wheels trophy that Chuck's Yellow Jacket won!
And, finally:
Please take a look in the shed or garage for the leftover parts or other saleable items you can donate to the club. Bring them to any WBA meeting, or contact Phil Wolff at myoldboats@gmail.com for pickup.