Project Updates from WBA May Meeting
(Above) Karl Dietz' Century Sea Maid is a real show stopper after dash and upholstery work, a couple fresh coats of varnish and other detailed craftsmanship.

(Below) Phil Wolff's classic glass Century's gunwales had been stained an incorrect honey color (see leftmost part of the left photo). Phil stripped, sanded and re-stained the gunwales to the proper mahogany color (below right).

(Below) Robin McGeorge and Jim Donovan worked hard to create an overlay for the dash of the Yellow Jacket that is now in the Lucas shop. They've roughed in the boat's speedometer prior to attaching the overlay permanently.

(Above) Trey Bull's Lyman outboard sports a new keel, fresh paint, and lots of new woodwork on the interior. The boat's Johnson 70hp outboard is proving to be a challenge.

(Below) The wiring on Scott Myer's Gar Wood Ensign has been redone with period-correct and beautifully detailed wires by Rex Hoecker. "Ngo Said Yes" was already a showpiece, and she's sure to bring home more trophies!

(Below) Jay Emerson is refreshing Ray Harvey's Chris-Craft Capri, "Chesterfield" to show standards. Ray's boat is always a welcome addition to any show, and has brought home plenty of awards. See full project report here.
Next WBA Monthly Meeting June 18, 2020. Virtual or In-Person?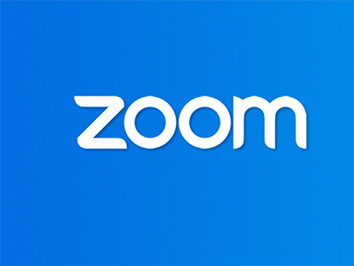 Our next meeting will be Thursday, June 18, at 7 p.m. A decision will be made closer to the date to determine if it is safe and permissable to meet in person at Two Guys from Italy. If not, the meeting will take place on line, using the Zoom application for your cell phone or your home computer. To make things easier at meeting time, it would be a good idea for you to go to your normal smart phone app store to download Zoom Cloud Meetings, or go to Zoom.us on your home computer and sign up. Prior to the meeting, you will be sent an email with a link to join the meeting, and further instructions. Those who wait to download Zoom will also receive a link to do that just before the meeting starts. If you are among those who need a few attempts to be successful with technology, you may want to get the downloading taken care of ahead of time.
Our meetings are a great opportunity to socialize with fellow WBA members and to talk shop on questions on everything from paint and varnish to carburetor kits. We'll be swapping stories of our various boating and project adventures. Plus, we'll have a presentation of general interest to the classic boating community. As we await the end of the Coronavirus pandemic, our virtual meetings are a great way to stay in touch with the goings-on of the Club.
Donated Engine Will Boost Treasury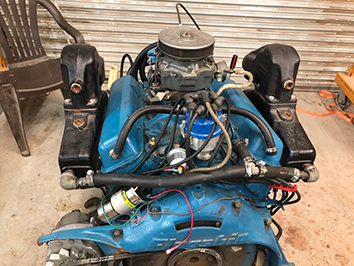 WBA member Lou Zettler, who has already donated a number of parts and supplies left over from his restoration of an Owens cabin cruiser, has donated this GM 350 V-8 to the club. The engine has been recently rebuilt with plenty of new parts, and features a Velvet drive 72 1.5 reduction gear transmission.
Robin and the shop crew have already corrected some of the plumbing issues that may have been affecting the engine's cooling, and will be bench testing soon. If you know of someone who may be interested in this engine, please let us know, so we can get it sold quickly. If we don't have any interest within the club, we'll put it up for sale on eBay. While we always manage to sell there, the fees rob the club of some benefit, so let's try to find a buyer now. We'll be posting video of the bench test on the WBA Facebook page in the near future.
Shop Talk and Musings: The Passing of Glenn Nerwin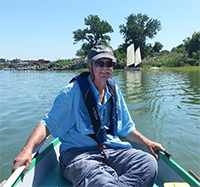 We are saddened to report the passing of faithful WBA member Glenn Nerwin on Wednesday, May 20, 2020. Glenn was a warm and generous man. He was a real craftsman, building display cases and other custom pieces for museums and other groups. Many will remember him from the Ride 'n Show at Pier 121 in 2015 when he brought and sailed his hand-made yawl (seen in the background in the photo at left). He also had a Yellow Jacket and a Speedliner, but his long illness prevented him from pursuing the hobby he loved so much. He came to the Lucas Shop on several occasions, bringing along the Fageol engine from his Speedliner for Robin to look at. He also redid the oars and the rudder for the Viking Ship from the Sid Richardson Scout Ranch several years ago. Fair winds and following seas, Glenn. Our sympathies to his wife Kathy. Kathy sends this message, "My heart is broken for him that he didn't get another 20 years to enjoy this passionate part of his life. Just tell everyone to enjoy every aspect of your wooden boat world -- that's what Glenn would want."
And finally, please take a look in the shed or garage for leftover parts or other salable items you can spray with Lysol, then donate to the Club. Contact David Kanally at david@historywithheart.com for more info.