Wood Waves & Wheels Braves Bad Weather
| | | May 9 is already a faint memory in the weather history of North Texas, but just as a reminder, it was raining. Of course it was the boat people who showed up anyway at the annual Wood Waves & Wheels Show at the Fort Worth Boat Club on the shores of the rapidly rising Eagle Mountain Lake. Soon after the show began, the sun poked through and a few vintage cars and motorcycles also joined the festivities. In all, it was a good day of fellowship, and a chance to see some boats we don't usually see. We're planning on inviting the Eagle Mountain Classic Boat Club members to all WBA events! Watch video! |
| --- | --- | --- |
Michael Kent Presents Features of Interlux Paints, Varnishes
The WBA welcomed Michael Kent, O.E.M. Manager for International Paint, LLC, to its May 21 meeting. Mike reviewed the features and benefits of a number of Interlux and Awlgrip finishes, including anti-fouling bottom paint, topside polyurethane paint, traditional tung-oil based varnishes as well as a leading-edge resin-based clear coat finish that surpasses the durability and UV resistance of traditional varnishes by a long shot.

Mike's long experience in the boat finish business and his technical expertise were much appreciated by the members in attendance. Mike distributed informational literature about the company's various product lines and answered a number of questions from the group.Thanks, Mike for a great presentation!
Project Progress Everywhere You Look!
(Above) Walter Hill has finished painting all his repaired woodwork around the front windows and foredeck of his Owens outboard cruiser. Here, the boat is jacked up to 24" off the floor in preparation for sliding the trailer underneath.

(Above) Dennis Cheatham and Jim Donovan carefully roll Walter's trailer under the raised cruiser, making sure to align the keel with the trailer's center rollers. Using the same incremental jacking process to lower the boat, the crew gently set her down onto the trailer.

(Above) Robin McGeorge carefully removes the cutwater from his Chris-Craft Cavalier. He's prepping the boat for a fresh coat of paint and varnish.

(Below) Steve Griffitts has completed the stripping of the port side of the hull of his '58 Lyman 16' outboard.

(Above) An aft view of Walter's cruiser shows how high she has to be blocked up in order to get the trailer underneath. This jacking was done incrementally with bottle jacks, with blocks of 2x6" stock inserted as the boat was lifted.

(Above) Walter Hill, Dennis Cheatham, Gay Perry, Jim Donovan and Ken Mattice celebrate the successful move of Walter's boat out of the large shop stall into Walter's storage unit. Remaining work can be completed in the smaller space, so the shop bay is available! Email us!

(Above) Robin has cleaned, prepped and painted the Cavalier's bilge in preparation for the installation of the refreshed 4-cyl., 60 hp engine.

(Below) Steve reports that the lapstrake hull is in pretty good shape as he continues his paint-stripping work.
Next WBA Monthly Meeting June 18th. Don't Miss It!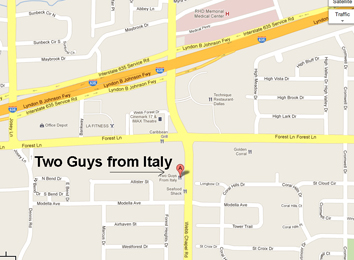 Our next meeting will be Thursday, June 18th, 2015 at 7 p.m. at Two Guys from Italy at 11637 Webb Chapel Road, just south of Forest Road. WBA Treasurer and benefactor John Parish will be giving away one of his many boating and woodworking related books as a door prize.
Ron and Tammy Odum will be on hand to tell us about the restoration of their magnificent wooden sailboat, Compass Rose. The traditional two-masted vessel boasts exquisite detail. We're sure you'll enjoy hearing this story!
As always, we'll have generous helpings of fellowship and Italian food.
Join us for a light meal and moderate libation at 5:30 p.m. at Two Guys from Italy prior to the meeting. We encourage you to join us for dinner, so we'll always have the required minimum number of diners to avoid a room charge.
Shop Talk and Musings
We have shop space available! For the first time in months, the WBA shop in Lucas has a fully-equipped restoration bay available for rent. With Walter Hill's successful completion of his planned work, he was able to move out last weekend. So if you've been thinking about a major boat project, pulling an engine, flipping a boat, or any other work, now's the time! The bay is ready for immediate occupancy. Rent, including electricity, is $214 a month. To rent the bay, drop David Kanally an email or call 940-395-2742.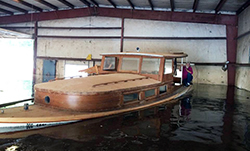 Also, be thinking about our fellow member and professional restorer Jay Emerson, whose shop has been directly impacted by the flooding at Lake Texoma. You can see some of his story on his Facebook page. Jay's moved all his power tools and other equipment and parts to higher ground, but his beautiful motor yacht is stuck in the shop. He's been wrestling with the natural boyancy of the boat (engine is out), but since the transom and several planks had already been pulled, the boat was not able to be removed from the shop before waters rose.

And finally, please take a look in the shed or garage for leftover parts or other salable items you can donate to the club. Bring them to any WBA meeting, or contact David Kanally at david@historywithheart.com for pickup.