| | |
| --- | --- |
| Including an update from our busy shop! | June 2008 |

This year's annual Ride 'n Show is fast approaching, and it's time to let us know if you can be with us for this great event, August 22-24, 2008. We'll start of with a fabulous barbecue at Al and Sarah Kroemer's farm in Argyle on Friday evening beginning at 6:30 p.m. Then on Saturday, we'll launch beginning around 8:30 on Saturday morning at the Eagle Point Marina (Sneaky Pete's) on Lake Lewisville. The folks at Sneaky Pete's have agreed to have us use their slips again this year, so we'll spend the day in and around the marina enjoying each other and our boats. Then on Saturday at 6:30 p.m., we'll cruise or drive over to WBA President Bob Van Guilder's lakeside home where Bob and Mildred will host an evening event. On Sunday morning at 9 a.m., we'll roar onto the lake with our traditional run, followed by a brunch buffet at Sneaky Pete's. Sound like fun? Register now!
WBA Supports Keels and Wheels, Eagle Lake Show in May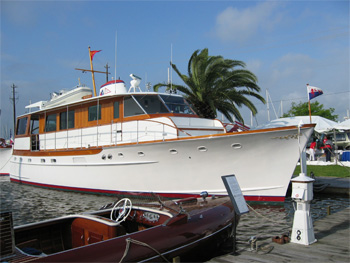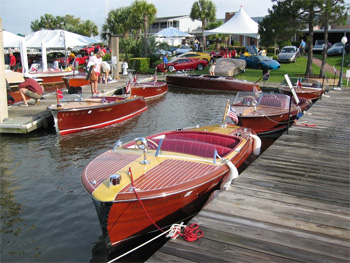 As is our custom, WBA members have recently participated in both the Keels and Wheels show at Clear Lake near Houston, and in the Eagle Lake show in Fort Worth. At Keels and Wheels, club members provided launch help at the ramp as well as judging support for the various classes of boats. At Eagle Lake, a hardy band of WBAers launched their boats and enjoyed the show. Thanks to all who attended, and who made a special effort to transport and launch their boats to help make these shows successful!
Marshall, McGeorge Conquer Complex Angles to Cut Keel Rabbets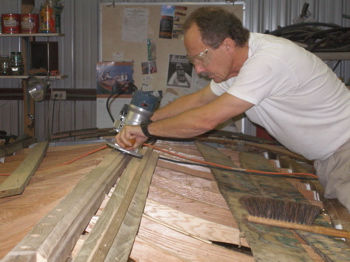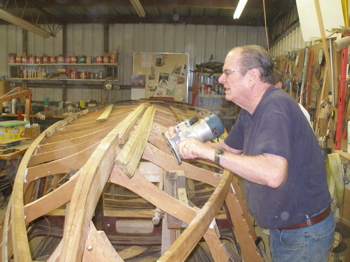 These guys just don't quit!! Troy Marshall (l) and Robin McGeorge (r) tackled one of the most complex jobs yet in the restoration of Troy's 1948 Hacker Triple. Using a router supported by template guide boards of their own design, the pair used a router to precisely cut the rabbets in the keel to accommodate the bottom and planking for the boat. The operation took more time in preparation than in execution, but the meticulous plan paid off. Next time you see these two, give them a pat on the back for tackling what is probably the most extensive restoration project in club history.
Got ZDDP? Kroemer Explains Modern Oil to Guys with Old Engines
Borrowing on his experience in the antique and classic car world, WBA member Al Kroemer presented some very timely and important information on motor oils to the club members in attendance at the May 15 meeting. Al raised the group's awareness of a growing problem with engine failures related to the elimination of ZDDP (Zinc DialkylDithioPhosphate, commonly known as Zinc) from many modern motor oils. ZDDP, a long-used additive providing important additional lubrication for high-pressure sliding surfaces like flat lifters and timing gears, has the negative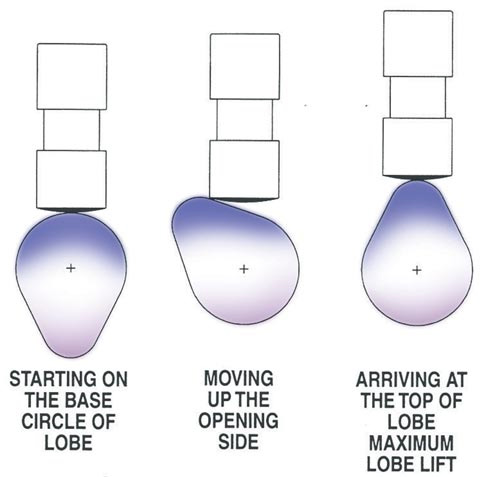 Illustration of high friction points between cam lobes and lifters (tappets).
side effect of being corrosive to catalytic converters in modern cars. So car manufacturers have persuaded oil producers to eliminate the additive from their products. Modern cars no longer use flat lifters, so they don't suffer the same potential damage as older engines do with ZDDP-free oil. To combat the problem, ZDDP is available as an additive, and motor oil with ZDDP is still available from mail-order companies. For more information, you may want to check out one such source at http://classiccarmotoroil.com, or by calling 317-225-0040. Thanks to Al for bringing this helpful information to the Club!
Mark Webster to Present "The Glorious History of John Hacker and Hackercraft Boats" at June 19th Meeting.
Don't miss our next meeting on June 19th at the Midway Point restaurant at 635 LBJ and Midway. We'll begin the meeting promptly at 7. Mark Webster will be making this month's presentation on John Hacker. Hacker is credited with being one of the most innovative marine architects of his day. As a testament to the quality of his design work, Hacker boats were widely plagiarized and it became a standard joke that every time Hacker produced a new runabout his competitors bought one in order to copy it.

Make sure to mark your calendar for the June 19th WBA meeting. Mark wants to see everyone there, and he guarantees that you won't be disappointed!
Join us for a light meal and moderate libation prior to the meeting. We'll gather at Midway Point at 5:30. See you there!
Please take a look in the shed or garage for the leftover parts or other saleable items you can donate to the club. Bring them to any WBA meeting, or contact David Kanally at david@historywithheart.com for pickup.