Project Updates from the Lucas Shop!
(Above) Joel Odom glues three sheets of 3/8" mahogany marine plywood together to create a 1-1/8" thick transom for his 1958 Yellow Jacket Catalina.

(Above) Steve McCune has been very busy getting his 1940 Willis Flying Saucer racer ready for Keels & Wheels. He completely redid the deck, returning it to its original appearance. This will be the outboard to beat at the show.

(Above) Phil Brosseau, Chris Sterlacci and Alan Oppenheimer are seen working on the through-hull for their Century Sabre's raw water intake...

Ted Dysart has been spending the last few Saturdays cutting, planing and fitting frame members for his Century Sabre. It's a big project. Ted is measuring twice and cutting once, most of the time!

(Above) Joel's going to need that new transom, because Carl Lapiska, Seb Borrello and David Kanally tore the old, rotten one off!

(Above) Carl Lapiska, seen here a couple weeks ago finessing the boot stripe on his '64 Chris-Craft Super Sport, has completed all the finishing required before the boat will be flipped upright. Stand by for a flipping invite!

(Above) ...and Craig Godfrey is working the same through-hull operation from the underside of the boat. The operation was successful, and the fitting was installed.

Jay Emerson reports good progress on the re-decking of his lastest project at his shop in McAlester, OK. We can't wait to see how this beauty turns out, and to learn more about the boat!
Next Monthly Meeting May 18th at Two Guys, Don't Miss It!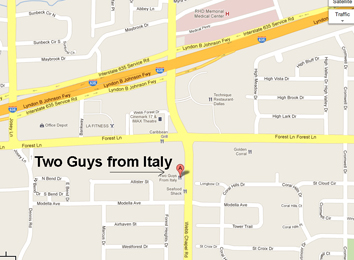 Our next meeting will be Thursday, May 18th, 2023, at 7 p.m. You'll receive an email reminder for the meeting a few days prior. We'll be continuing our door prize tradition, giving out an e-book, or print book of the lucky winner's choice, or a complimentary design of a boat show placard. The meeting will include a presentation of the K&W and Wood, Waves & Wheels shows. In addition, members will be given an opportunity to share their stories and tributes about Robin McGeorge.
If you can't join in person, you'll be using the Zoom application for your cell phone or your home computer. To make things easier at meeting time, it would be a good idea for you to go to your normal smart phone app store to download Zoom Cloud Meetings, or go to Zoom.us on your home computer and sign up. Prior to the meeting, you will be sent an email with a link to join the meeting, and further instructions. Those who wait to download Zoom will also receive a link to do that just before the meeting starts. If you are among those who need a few attempts to be successful with technology, you may want to get the downloading taken care of ahead of time.
Our meetings are a great opportunity to socialize with fellow WBA members and to talk shop on questions on everything from paint and varnish to carburetor kits. Please join us on Zoom to be a part of our monthly fellowship!
Shop Talk and Musings: Fair Winds and Following Seas, Marty Franz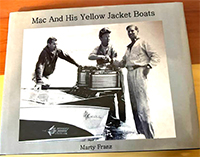 Marty Franz, longtime Yellow Jacket enthusiast and author of the book, "Mac And His Yellow Jacket Boats" passed away on April 21, 2023. He was 76. Marty had one of the first web sites devoted to Yellow Jacket boats, and he was known to many as "Mr. Yellow Jacket". Marty participated in the 2013 Keels & Wheels show, when Yellow Jacket boats were the featured marque. He traveled at his own expense to Houston and to Denison to do research for his book, and in the process met members of family of Yellow Jacket founder Mac McDerby and many people who either worked at Yellow Jacket Boats or had family members who had. He was a good guy. Existing copies of the book have sold out, but a waiting list is being created to see if there is enough interest for another printing. Check with Dennis Cheatham if you would like to be on the list. You can read Marty's obituary here.
And finally, please take a look in the shed or garage for leftover parts or other salable items you would like to donate to the Club. Contact David Kanally at david@historywithheart.com for more info.