Lucas Shop Receives Donated Lyman from Paul Kane
| New WBA member Paul Kane of Fort Worth has donated a beautifully restored 1958 16' Lyman with a 1960 Evinrude 50hp motor to the WBA. We'd like to offer it to club members as is now, before we invest any time in the boat. | | She's ready to go, and we'll bring her to the Wood, Waves & Wheels Show on Eagle Mountain Lake on May 11 so you can see her in operation! A detailed photo book documenting the extensive restoration is included with the boat. |
| --- | --- | --- |
Next WBA Monthly Meeting May 16, 2019, Mark Your Calendar!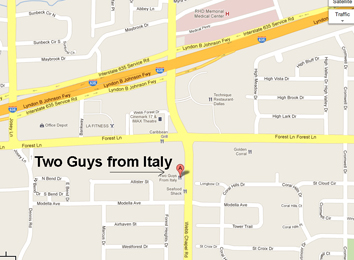 Our next meeting will be Thursday, May 16th, 2019 at 7 p.m. at Two Guys from Italy at 11637 Webb Chapel Road, just south of Forest Lane. We'll be continuing our door prize tradition, giving out a classic boating book from collections donated by Pat Baldwin and Bill McNally to a lucky winner.
Our meetings are a great opportunity to socialize with fellow WBA members and to talk shop on questions on everything from paint and varnish to carburetor kits. We'll be swapping stories of our various boating and project adventures. Plus, we'll have a presentation of general interest to antique and classic boating enthusiasts. And, of course, we'll have generous helpings of fellowship and Italian food.
Join us for a light meal and moderate libation at 5:30 p.m. at Two Guys from Italy prior to the meeting. We encourage you to join us for dinner, so we'll always have the required minimum number of diners to avoid a room charge.
Shop Talk and Musings:
We welcome the boating season with gratitude as the weather warms and the spring breezes blow. Our lakes are full, and members are already taking to the water with their antique and classic boats. We are also grateful for the generosity of our WBA members who, among other things, have donated boats (Scott Reichardt, Paul Kane), purchased donated boats (Steve McCune) and given weeks of their time to restore donated boats (Robin McGeorge, Jim Donovan, Seb Borello, David Kanally and others, and given hours of service to our Club and its events (David and Loretta Sheets, Scott Myers, Gay Perry, Scott Reichardt). Best wishes to all our WBA members for a safe and enjoyable 2019 boating season!
And finally, please take a look in the shed or garage for leftover parts or other salable items you can donate to the Club. Bring them to any WBA meeting, or contact David Kanally at david@historywithheart.com for pickup.