North Texas Municipal Water District Spokesman at April WBA Meeting.
R.J. Mankowski of the North Texas Municipal Water District was the featured speaker at the April 19 meeting of the WBA. R.J. spoke about the history and scope of the Water District serving many communities in the area.

As the provider of water for a large area of the Metroplex, the District must be concerned not only with the amount and quality of water for current consumption, but also with planning for the future.

The District has recently acquired a permit to construct a new reservoir on Lower Bois d'Arc Creek in Fannin County. Click on picture at right for brochure.

Thanks, R.J., for an informative presentation!

≈
Project Update from Lucas and Beyond!
(Above) Robin McGeorge and Seb Borrello begin the process of caulking the seams in the deck of Belinda Patterson's Cavalier.

(Below) The aft deck of Belinda's Cavalier requires the use of a lot of masking tape, leaving just the seam gaps showing.

(Below) A combined team of Boy Scout leadership (Connor Currie and fiancée Morgan) and WBA stalwarts Jim Donovan and Gabe Chacin, sand the interior of the Viking Ship at the Sid Richardson Scout ranch on a recent Saturday work day. Read more here.

(Above) Like painting, the secret to caulking is surface preparation. Robin likes to caulk after most of the varnish coats are on, then he tapes off the seams carefully.

(Below) Robin McGeorge uses the buffing wheels to clean the putty knife he will use to smooth the caulking in the seams of Belinda's boat.

(Below) David Kanally looks like something out of a Woodie Allen movie, sporting his hooded coverall to protect him from dripping bottom paint as he works underneath the Viking ship. Any exposed parts of the guy were spotted with black paint, including his face and wrists.
Next WBA Monthly Meeting May 17th, 2018. Don't Miss It!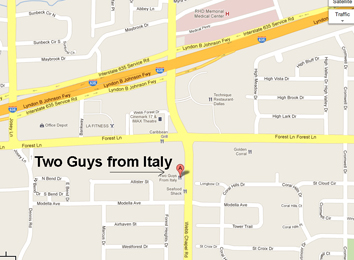 Our next meeting will be Thursday, May 17th, 2018 at 7 p.m. at Two Guys from Italy at 11637 Webb Chapel Road, just south of Forest Lane. We'll be continuing our door prize tradition, giving out a classic boating book from collections donated by Pat Baldwin and Troy Marshall to a lucky winner.
Our meetings are a great opportunity to socialize with fellow WBA members and to talk shop on questions on everything from paint and varnish to carburetor kits. Come and hear tales of WBA members' experiences at Keels & Wheels and the Wood, Waves & Wheels Show! And, of course, we'll have generous helpings of fellowship and Italian food.
Join us for a light meal and moderate libation at 5:30 p.m. at Two Guys from Italy prior to the meeting. We encourage you to join us for dinner, so we'll always have the required minimum number of diners to avoid a room charge.
Shop Talk and Musings
We're beginning our busy season here at the good ol' WBA, so it's time to get out and enjoy some antique and classic boating. This Bilge Pump has several great events featured, and we hope you can make it to all of them! And there are more to come. Check out our Calendar of Events for the latest on our plans. The lakes are full and the weather has finally turned reasonable! Let's make this the best WBA year yet!
And finally, please take a look in the shed or garage for leftover parts or other salable items you can donate to the Club. Bring them to any WBA meeting, or contact David Kanally at david@historywithheart.com for pickup.