Emerson Details Dramatic Evolution of Emerson Bay Boat Works at April Meeting
| Jay Emerson is one of the WBA's professional restorers, having completed boatbuilding certification in Washington State. Last year's floods at his location on Lake Texoma forced a move to Oklahoma, which is turning out quite well. | | Circumstances forced Jay to say goodbye to the Richardson seen above left, but he's doing great things with several other boats, including WBA member Lewis Lawson's Chris Craft, seen above. Thanks for a great presentation, Jay! |
| --- | --- | --- |
Project Update from Lucas and Plano!
(Above), Bob Adair and Lew White's sailing dinghy saw the light of day lately, as the guys stepped the mast. She sits pretty on the custom bunks on her little trailer.

(Above): Richard Haug makes a final check of the hitch and lights before beginning his delivery journey to Idaho with the 1956 Chris-Craft Holiday donated by Jacob Deegan. After all expenses, the sale should net the club around $18,000! Special thanks to Richard for making this journey on behalf of the WBA!

(Above): The dinghy is now ready for paint. The inside will be non-skid off-white, while the outside hull will have the top strake gloss deep blue and the remainder gloss white.

(Above): Jim Donovan helps back Chuck Barber's Boorum outboard back into its original stall. Chuck had allowed the club to use the larger stall for the Holiday restoration while Chuck worked in Robin McGeorge's stall just to the right of the pictured large shop bays. Thanks to Chuck for his generosity in sharing his space!
Next WBA Monthly Meeting May 18th, 2017. Don't Miss It!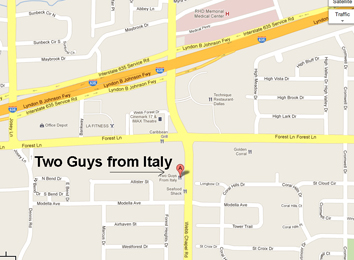 Our next meeting will be Thursday, May 18th, 2017 at 7 p.m. at Two Guys from Italy at 11637 Webb Chapel Road, just south of Forest Lane. We'll be continuing our door prize tradition, giving out a classic boating book from collections donated by Pat Baldwin and Bill McNally to a lucky winner.
Our meetings are a great opportunity to socialize with fellow WBA members and to talk shop on questions on everything from paint and varnish to carburetor kits. We'll feature a presentation of special interest to antique and classic boaters, of course. As always, we'll have generous helpings of fellowship and Italian food.
Join us for a light meal and moderate libation at 5:30 p.m. at Two Guys from Italy prior to the meeting. We encourage you to join us for dinner, so we'll always have the required minimum number of diners to avoid a room charge.
Shop Talk and Musings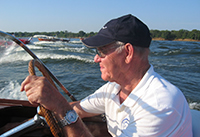 Leroy Newkirk passed away on April 20, 2017 after a long illness. Leroy and his lovely wife Pat have been an important part of the WBA for many years...from the earliest days of the club. We remember Leroy being recognized with a "Sustaining Member" award by past president Mark Webster at our annual banquet. Several years ago, Leroy and Pat moved to De Kalb, TX from Dallas, so we saw them only a couple times a year. Later, Leroy's illness kept him from being with us at all. We'll miss him greatly. Our sympathies go out to Pat and the family. We'll remember Leroy at the wheel of his Chris-Craft, enjoying our company and our hobby. The photo at left was taken at the Ride 'n Show on Lake Lewisville in 2007. Fair winds and following seas, dear Leroy.
And finally, please take a look in the shed or garage for leftover parts or other salable items you can donate to the Club. Bring them to any WBA meeting, or contact David Kanally at david@historywithheart.com for pickup.