Jack Hogan Presents Hand-Built Skiff at April 16 Meeting
| WBA members at the April meeting heard a presentation by Jack Hogan on his hand-built wooden skiff. This boat was built by David Lemky of Victoria, TX in 2007 using a CAD program. The boat is constructed of 7-ply, 3/4" marine plywood. | | Jack's skiff is 18 ½' & weighs 400 lbs., and is designed for fishing in shallow water. Jack showed slides of the building process, which were very interesting and informative. Thank you, Jack, for your presentation! |
| --- | --- | --- |
Season Kickoff Party June 5 at Harveys'!
Ray and Carol Harvey have again opened their lovely home to the WBA for the Season Kickoff Party, slated for Friday, June 5. Mark your calendar now and save the date. Evites will be coming to you via a group email soon.

The party is always enjoyable and well-attended, as indicated by the shot at left of last year's gathering. Whether it's the food, the music, the setting or the good old fashioned WBA fellowship, we know you'll find a good reason to be with us this year.

There are no boats involved, and the only thing we launch is the Summer Season. So make plans to bring your spouse, boatress, significant other or best friend out on Friday evening, June 5, for this great gathering! See you there!
Restoration Work from Lucas to the Mid-Cities!
(Above) Walter Hill has finished the woodwork on his windshield and has even cut the plexiglass windshield panels. Next he will be fitting the trim pieces and waterproofing the joint around the plexiglass.

(Below) Steve Griffitts finished up work on his 15'Thompson just in time to head out to Keels & Wheels with her in tow. Steve says he couldn't have done it without significant help from Patrice Mozelewski, for whom we may need to create a new WBA award for Boatress of the Year. She may deserve some other awards, too, from Steve! Congrats on the completion...can't wait to see the boat at K&W!

(Above) Robin McGeorge and Curtis Irwin hook up the chain fall to the 327 Chris-Craft engine in Curtis' Super Sport. Within a few minutes the giant lag bolts holding the engine to the stringer were removed, and the engine was hoisted high so Curtis could tow the boat out from under it. A mechanic is coming to take the engine to his shop and, as we say, "go through it."

(Below) Scott Myers' Chrysler Crown is all back together and running. In fact, Scott and his wife, Thuy, were at the shop Saturday just long enough to retrieve the Garwood for a run on the lake!
Next WBA Monthly Meeting May 21st. Don't Miss It!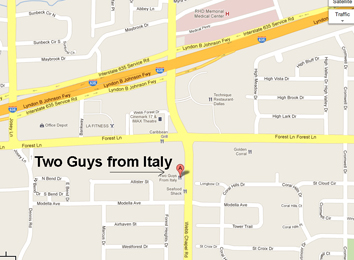 Our next meeting will be Thursday, May 21st, 2015 at 7 p.m. at Two Guys from Italy at 11637 Webb Chapel Road, just south of Forest Road. WBA Treasurer and benefactor John Parish will be giving away one of his many boating and woodworking related books as a door prize.
Mike Kent of International Paint will bring us our program, reviewing the properties and advantages of various types of finishes for our precious boats. We think this will be a good way for members to learn more about this key topic. As always, we'll have generous helpings of fellowship and Italian food.
Join us for a light meal and moderate libation at 5:30 p.m. at Two Guys from Italy prior to the meeting. We encourage you to join us for dinner, so we'll always have the required minimum number of diners to avoid a room charge.
Shop Talk and Musings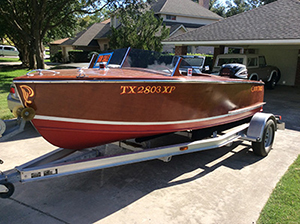 You've heard, and probably even experienced, the saying that goes, "The two happiest days in a boat owner's life are the day he buys it and the day he sells it." Well, our goal today is to make two people happy! WBA member George Nichols, who lives over in Willis, TX, north of Houston, has a very pretty and very fast 1968 17' Hollywood mahogany outboard for sale.
She's listed in the WBA Classifieds, where there's even a little video showing the boat scooting down the lake at a pretty good clip. Powered by a '63 75 hp Evinrude, the boat has no shortage of oomph. The trailer is aluminum.
We haven't seen this boat at our North Texas events due to George's location, but now you can correct the situation by adding this boat to your list of assets and then bring it to all our events this season! Looks like there's not much work needed if any. Have a look. See the boat ad here.

And finally, please take a look in the shed or garage for leftover parts or other salable items you can donate to the club. Bring them to any WBA meeting, or contact David Kanally at david@historywithheart.com for pickup.