Next Meeting May 16th. Don't miss it!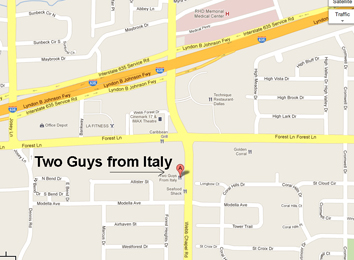 Join us on Thursday, May 16th at 7 p.m. at Two Guys from Italy at 11637 Webb Chapel Road, just south of Forest Road. WBA Treasurer and benefactor John Parish will be giving away one of his many boating and woodworking related books as a door prize. At this month's meeting, the winner will be able to choose a book from a selection of woodworking and boat-related volumes. We'll have an exciting presentation lined up that will be sure to delight you!
Join us for a light meal and moderate libation at 5:30 p.m. at Two Guys from Italy prior to the meeting. We encourage you to join us for dinner, so we'll always have the required minimum number of diners to avoid a room charge.
Shop Talk and Musings: My Levi 5200's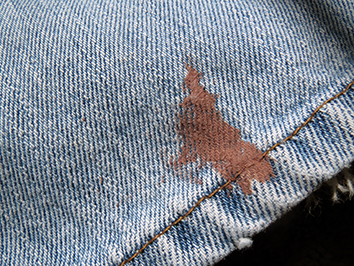 When new member Bo McIlvoy asked our Yellow Jacket experts Bob Adair, Lew White and me to come up to Sherman to take a look at his newly acquired 1956 Yellow Jacket Catalina, he wasn't ready to hear the news we gave him. His transom was pretty well rotted along the bottom, as was a section of the main keel. The work required to make it right was beyond Bo's reach, so we offered to open the shop and help get Bo's boat back to where he thought it was when he bought it.
Thanks to Marc Hill for use of his bay at the shop while his boat is out getting a zillion coats of varnish in a spray booth somewhere.
We had a transom blank left over from the Yellow Jacket Bench project, and were able to salvage the side and bottom transom supports from Bo's boat. So, with help from Seb Borrello and Robin McGeorge, we fabricated a new transom and a dutchman patch for the keel. Photos here. Below right, you can see Bo screwing the new transom in.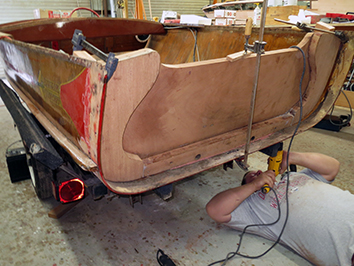 Of course, everything is bedded in 3M 5200 marine adhesive and sealant. And as my wife Cheryl knows, if I am within 10 feet of an open tube of 5200, I will get some on me. In this case, I got some on one of my few pairs of Levi's that don't already have paint, varnish or grease stains on them. So, folks, I got me a brand new pair of Levi 5200's that day! I wear them with pride, now, knowing that no matter how many times they get washed, that 5200 will be there, good as new, protecting, preserving and waterproofing the fabric fibers and letting the world know, "This man uses one of the best marine adhesive/sealants in the world."
You, too, can have a pair of Levi 5200's. All you have to do is put on any pair of Levi's and come out to the shop when 3M 5200 is in use (which is almost any Saturday, for example). We can almost guarantee that you'll go home in a pair of Levi 5200's!
And, finally:
Please take a look in the shed or garage for the leftover parts or other saleable items you can donate to the club. Bring them to any WBA meeting, or contact David Kanally at david@historywithheart.com for pickup.