Next Monthly Meeting May 17, 2012. Don't miss it!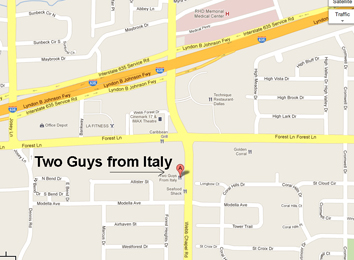 Join us on Thursday, May 17th at 7 p.m. at Two Guys from Italy at 11637 Webb Chapel Road, just south of Forest Road. Our program will be given by professional wooden boat restorer and builder Jay Emerson on the subject of a 1959 Shepherd that recently received transom and other restoration work at Jay's hand.
Join us for a light meal and moderate libation at 5:30 p.m. at Two Guys from Italy prior to the meeting. We encourage you to join us for dinner, so we'll always have the required minimum number of diners to avoid a room charge.
Shop Talk and Musings:
It was a true pleasure to make a Sunday drive out to Krum (just north of Denton) with Lew White to show Lew's pretty little Willis racing runabout to John and Jo Indrieri, who have a nearly identical boat under restoration in their garage in Horseshoe Bay. Lew has given his Willis to his grandson Will, who at age 15 is more than ready to put the boat into the water for the first time. Jo received her boat from her late uncle's estate a few years ago, and recently discovered our WBA Willis Boat Works history project on our web site. She was pretty happy to find us, since we are apparently the only Willis Boat Works information site out there! In any case, John and Jo are now WBA members, and are benefiting immediately from Lew's direct experience in the restoration of the Willis. Lake LBJ neighbors and fellow WBA members Scott Reichardt and Jim Frechette are also lending advice. I left Krum feeling pretty good. This kind of shared knowledge is EXACTLY what the WBA is about! See a brief video of this meeting here.
And, finally:
Please take a look in the shed or garage for the leftover parts or other saleable items you can donate to the club. Bring them to any WBA meeting, or contact David Kanally at david@historywithheart.com for pickup.