Next Meeting May 20th--Don't Miss It!
Join us at the Midway Point on Thursday, May 20th for the next monthly meeting of the WBA. Come out and see some people who look surprisingly good for their ages. Bill Kimball will present some interesting facts and images from his "other" passion, American Race Cars. We've been seeing some faces from the past as well as new members! The meeting will begin at 7 p.m. on Thursday, May 20th at the Midway Point at LBJ and Midway Road.
Join us for a light meal and moderate libation at 5:30 p.m. at the Midway Point prior to the meeting.
Shop Talk and Musings: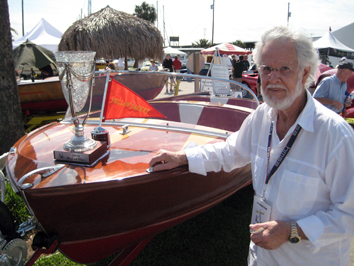 I'm always amazed at the power of a major show like Keels & Wheels to bring together like-minded people who love antique and classic boats. This year, we had the rare pleasure of meeting a car guy who, as it happens, is also a living part of Yellow Jacket history. His name is Bill Bauder (right). Bill spent the early years of his career as a designer of hardware and other trim features at the Yellow Jacket Boat Company of Denison from 1952-1958. He would later go on to get his architecture degree and have a long, successful career in Austin. He also owns and has raced a '54 Allard race car. Now 83, he's off the classic race circuit and enjoying shows like Keels & Wheels with his wife Ginger.
It was also great to see Bob Van Guilder get some recognition and Keels & Wheels. Bob has been quietly leading the judging effort there for several years, and has also helped organize the launch team. It's clear that the Keels & Wheels leadership really appreciates Bob's efforts. He received the President's Award from the Southwest Chapter of ACBS for his efforts.
Please take a look in the shed or garage for the leftover parts or other saleable items you can donate to the club. Bring them to any WBA meeting, or contact Phil Wolff at myoldboats@gmail.com for pickup.