McCune Yellow Jacket Completed, Nevada Yellow Jacket Advances
(Above) After taking the 1957 Yellow Jacket Riviera home from the Lucas Shop, Steve McCune pulled her out into the sunshine for some glam shots.

(Below) Robin McGeorge and Seb Borrello do some cleanup work on the transom as the interior is prepared for refinishing.
Next WBA Monthly Meeting April 15, 2021. Join Us On Line!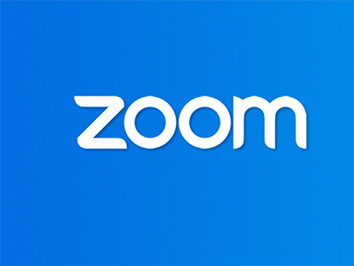 Our next meeting will be Thursday, April 15, 2021, at 7 p.m. Current COVID numbers and the likelihood of continued restrictions on indoor gathering sizes compel us to continue our virtual meeting format. The meeting will take place on line, using the Zoom application for your cell phone or your home computer. To make things easier at meeting time, it would be a good idea for you to go to your normal smart phone app store to download Zoom Cloud Meetings, or go to Zoom.us on your home computer and sign up. Prior to the meeting, you will be sent an email with a link to join the meeting, and further instructions. Those who wait to download Zoom will also receive a link to do that just before the meeting starts. If you are among those who need a few attempts to be successful with technology, you may want to get the downloading taken care of ahead of time.
Our meetings are a great opportunity to socialize with fellow WBA members and to talk shop on questions on everything from paint and varnish to carburetor kits. Please join us on Zoom to be a part of our monthly fellowship!
Shop Talk and Musings: Farewell to a Friend of the WBA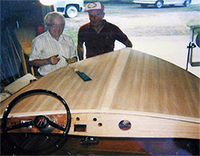 Dek Kanally, my Dad, died unexpectedly on Sunday, March 21, 2021. He was 97. Dek (pronounced "Deek"), followed the events, meetings and gatherings of the WBA as if he lived here. He bought the 1957 16' Cowell King that is now our boat in Pennsylvania in 1969 when I was 16 years old, and he restored it twice between then and the time he gave it to us in 1999. At left, you see Dek, standing at the left with his late buddy, Jerry Bozzo, checking out the new deck he put on the boat in 1987. He took us fishing, water skiing and recreational boating in that little boat for many years. When my brother and I left home, Dek took other kids and their parents on boating and fishing trips to Chautauqua Lake, NY, Kinzua Dam, PA, and Kipawa, Quebec. He loved working on the boat and driving it. That boat is now part of his legacy, and we pledge to keep her shiny and well-running. The next time you see us in our boat, know that it's part of a 50-year family story, and that my wonderful Dad was the primary author of that story. More here.
And finally, please take a look in the shed or garage for leftover parts or other salable items you can spray with Lysol, then donate to the Club. Contact David Kanally at david@historywithheart.com for more info.