Coast Guard Auxiliary Presents Program at March Meeting!
Ray Carlton, Boat Show and National Safe Boating Week Coordinator of the Coast Guard Auxiliary Division 5 on Lake Lewisville, presented the wide-ranging duties and capabilities of the all-volunteer Coast Guard Auxiliary. Boating safety is their main goal, as they provide patrolling services, boat inspection services and boating safety information on the lake and at area events and shows (and meetings like ours!).

Ray is a veteran and a retired career man (Sears-Roebuck, just like our own Robin McGeorge). His many hours of volunteer service to the Coast Guard Auxiliary follow a number of years of service in his previous home waters of Hilton Head. A native of the Ohio shores of Lake Erie, Ray has some history with wooden boats as well. Thanks Ray!!
Project Update from Lucas and Beyond!
(Above) Mark Wilson has returned to the Lucas Shop following some major finishing work done by Jay Emerson. Mark has turned his attention to the cleanup of his windshield frame.

(Below) Scott Myers is nearing completion of the reassembly of his 1946 Chrysler Crown. The brass work on this engine really makes it a piece of art! After bench testing with help from Jim Wolfe, the engine will go back into Scott and Thuy's Gar Wood Ensign.

(Below) WBA member and boat builder Glenn Nerwin of North Richland Hills showed up at the Sid Richardson Ranch on Friday to pick up the 8 oars and a few other parts of the Viking Long Ship used in summer Scouting programs. Glenn will refurbish the oars and build new oar locks as his contribution to the project. Read more here.

(Above) Mark uses the buffing wheel at the shop to shine up his windshield frame. The wheel got his test area a bit too shiny, so he's going back to fine steel wool with maybe some fine grit cleaning compound.

(Below) Stan Lehnhardt works some vinyl tubing onto the bilge pump in Belinda Patterson's boat. After wiring the boat up last week, Stan and Robin found that the alternator and some other bits needed some attention, so that's happening now, too.

(Below) Jay Emerson holds a gleaming new cutwater handcrafted by fellow WBA member Rex Hoecker. We are constantly reminded of the richness of skill and talent of our membership, and these two guys are a pretty good representatives of our group of craftsmen, bringing their knowlege to the restoration of classic boats!
Next WBA Monthly Meeting April 19th, 2018. Don't Miss It!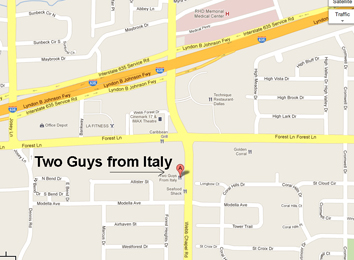 Our next meeting will be Thursday, April 19th, 2018 at 7 p.m. at Two Guys from Italy at 11637 Webb Chapel Road, just south of Forest Lane. We'll be continuing our door prize tradition, giving out a classic boating book from collections donated by Pat Baldwin and Troy Marshall to a lucky winner.
Our meetings are a great opportunity to socialize with fellow WBA members and to talk shop on questions on everything from paint and varnish to carburetor kits. As is our custom, we'll have an informative program of interest to classic boating enthusiasts! And, of course, we'll have generous helpings of fellowship and Italian food.
Join us for a light meal and moderate libation at 5:30 p.m. at Two Guys from Italy prior to the meeting. We encourage you to join us for dinner, so we'll always have the required minimum number of diners to avoid a room charge.
Shop Talk and Musings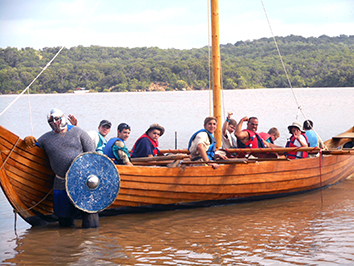 The WBA is helping a wonderful cause, the restoration of the Viking Long Ship at the Sid Richardson Boy Scout Ranch in Bridgeport. The ship has taken quite a beating over the years (with crews like the one pictured at left, plundering and having a great time on the lake!). Your editor has drafted a work plan, which you can read and download here. Glenn Nerwin is already refurbishing the oars and building new oar locks and knees at his shop in North Richland Hills. A couple guys have already volunteered for some work days at the Ranch in Bridgeport in April and May. We're also getting some volunteer support from the Scouting families involved with the Ranch's program. Please let David Kanally (940-395-2742) know if you'd like to help, too! We're awaiting final approval of the materials budget from the Ranch, and then we'll set some work dates. What a great opportunity to practice our hobby and serve Scouting at the same time!
And finally, please take a look in the shed or garage for leftover parts or other salable items you can donate to the Club. Bring them to any WBA meeting, or contact David Kanally at david@historywithheart.com for pickup.