Sedberry Details Classic Glass Jet Boat Resto at March Meeting
| Special thanks go out to Grant Sedberry who brought a detailed slide show of his restoration of '73 Nordic jet boat to share with the WBA at the March 16 meeting. Grant had his own ideas about the boat's color scheme. | | After sanding down the old gel coat, Grant found and repaired a number of stress cracks, then sprayed on new red gel coat with metallic flakes, then clear coat. These are the skills of the new generation of classic boaters! |
| --- | --- | --- |
Project Update from Lucas and Beyond!
(Above) Bill Mott and Mark Wilson take the donated '56 Holiday out for her water test on March 2. The bilge remained dry while Mott put the boat through her paces on Lake Lavon. Acceleration and engine performance are solid, and the ride is smooth!

(Below) Bob Adair and Lew White are ready to varnish and paint their 12' sailing skiff. This aft view shows the tiller mounted on its pintles, the gunwales, and the seats and centerboard trunk all ready for varnish. Hull will be white, inside and outside.

(Below) Jim Donovan inspects Dennis Cheatham's 1958 Yellow Jacket after he helped get the Merc outboard mounted on the transom. Dennis plans water tests soon!

(Below) WBA President David Sheets is leading by example with the restoration of his Skiff Craft. A refreshed 350 V8 has taken the place of the original faulty engine, with a major assist from Jim Wolfe.

(Above) "Surprise" is the donated Holiday's given name, and it's entirely appropriate, since the donation was a very pleasant surprise, indeed. The craft's 20' length, deep hull and wide beam give her lots of room and a comfortable ride. Watch the video here!

(Below) Lew and Bob built this little beauty from plans, making tweaks along the way. They're also custom fitting the trailer to cradle the boat properly as their project nears completion. They plan to offer the boat for sale sometime this spring. Beautiful!

(Below) Rex Hoecker was on hand to help Dennis with the installation of his 65 HP Mercury outboard on his Yellow Jacket. Dennis' restoration gleams with its Awlgrip finish.

(Below) Loretta and David Sheets collaborated to stretch a new outdrive seal over the outdrive to seal it agains the freshly varnished transom. The boat is now both mechanically and aesthetically ready for the season!
Next WBA Monthly Meeting April 20th, 2017. Don't Miss It!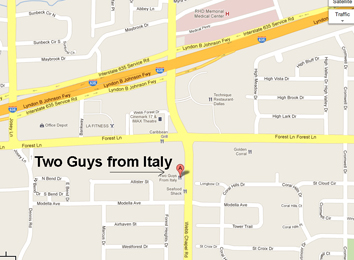 Our next meeting will be Thursday, April 20th, 2017 at 7 p.m. at Two Guys from Italy at 11637 Webb Chapel Road, just south of Forest Lane. We'll be continuing our door prize tradition, giving out a classic boating book from collections donated by Pat Baldwin and Bill McNally to a lucky winner.
Our meetings are a great opportunity to socialize with fellow WBA members and to talk shop on questions on everything from paint and varnish to carburetor kits. We'll feature a presentation of special interest to antique and classic boaters, of course. As always, we'll have generous helpings of fellowship and Italian food.
Join us for a light meal and moderate libation at 5:30 p.m. at Two Guys from Italy prior to the meeting. We encourage you to join us for dinner, so we'll always have the required minimum number of diners to avoid a room charge.
Shop Talk and Musings
The 2017 season is starting with a bang, with three major events over the next couple months. With lots of water in area lakes, it looks like this will be a banner year for antique and classic boating in Texas. We'll see a couple of new WBA member projects emerge from months (and in some cases years) of work for their maiden appearances. We'll also have lots of opportunities to participate in activities with boating cohorts from around the state and the region. Don't worry if you don't own an antique or classic boat...just sign up for these events and enjoy them as a passenger in a fellow member's boat!
And finally, please take a look in the shed or garage for leftover parts or other salable items you can donate to the Club. Bring them to any WBA meeting, or contact David Kanally at david@historywithheart.com for pickup.